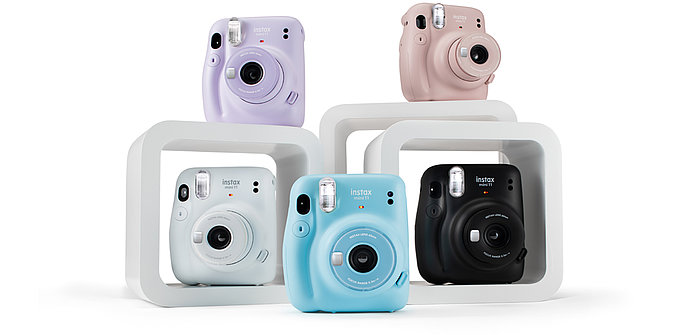 To be released this time are stylish mini-format instax film "BLUE MARBLE" and square-format instax film "WHITE MARBLE," both featuring marble patterns on the frames. The marble-design frames are accentuated with glittery gold and silver, turning a daily snap into a memorable special piece.
The "instax" series of instant cameras, launched in 1998, now offers a wide variety of models that cater to diverse user needs in over 100 countries worldwide, including Japan, Europe, Americas, China and Southeast Asia. The series has gained popularity especially among young people, who love being able to print and share a precious moment on the spot, and feel a sepcial sense of connection with friends when sharing photo prints with them. It is embraced by a large number of people as a tool for creating real communication. "Instax" has been affectionately called "Cheki" in Japan for over 20 years since its initial launch.
The new mini 11 is the first entry model to feature the "Automatic Exposure" function, in which the camera automatically senses the level of ambient light when the shutter button is pressed, and optimizes the shutter speed and flash output according to the condition. It allows users to take photos optimally exposed to the main subject and the background in a variety of situations including a bright sunny day outdoors and a dark indoor condition at a restaurant or a party venue, producing high-quality instant photo prints on the spot.
Another feature that makes taking instax photos easier than ever before is the Selfie Mode, which is ideal for selfies and close-ups. The Selfie Mode can be activated by simply pulling out the front end edge of the lens after powering the camera on.
The camera body has been redesigned for optimal portability along with a fresh, trendy look.. In addition of it being thinner and lighter than the previous model, the mini 11 sports a rounded body design that fits perfectly in users' hands for added operability. Fashionable design elements on the mini 11 are achieved by using a different material around the lens from the rest of the camera body, and featuring the brand logo "instax" engraved on the back side.
The mini 11 is available in five pale tone colors (Blush Pink, Sky Blue, Charcoal Gray, Ice White and Lilac Purple). The camera also comes with two replaceable accessories for the shutter button to change the button's looks according to users' preference.