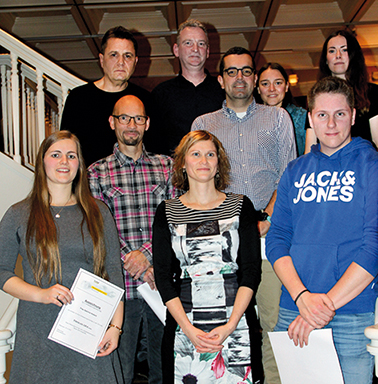 How to manufacture individual machine parts
The idea submitted by Dwayne Heinemann and Felix Fuchs received special attention. Both employees completed their apprenticeships as machine and plant operators at Faubel several years ago, with Felix Fuchs further qualifying as a print media technologist. The suggestion they made was extremely imaginative: in order to streamline operations, they produced prototypes of machine parts using a 3D printer. The first machine part they designed and immediately printed out was a special suction piston. The new part was then fitted to a machine from the Labels Processing Department and has since then contributed to shortening turnaround time.
In his address, Frank Ludwig especially praised the dynamic attitude of the former apprentices: "We are delighted to have such creative young people who not only have good ideas but also implement them by themselves. For us as a company, it just goes to show that thorough training always pays off".