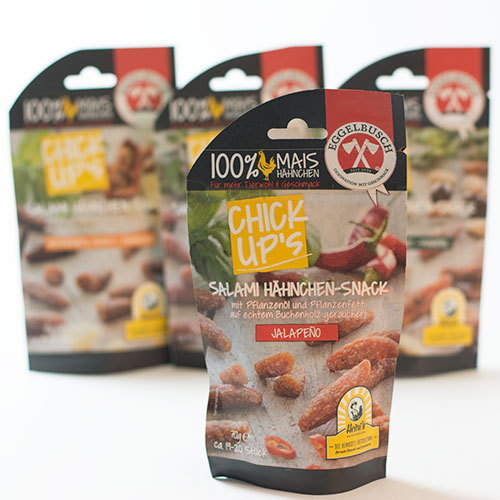 Unique packaging contributes to the brand loyalty
The new ChickUp's line includes, until further notice, four products which are sold in the Schur®Star Shape profile. Eggelbusch went for a colorful design to emphasize the savory and full-bodied taste. This together with the stand-up bag construction ensures attention at POS. The bag material is based on a laminate construction and offers in combination with an incorporated zipper the requested convenience. All these elements contribute to a higher brand loyalty. As an additional feature, the bags are equipped with a functional euro hole for suspension, giving the options of presenting the bag differently at POS.
Eggelbusch is known for its smoky-savory summer sausage from Westphalia
The Eggelbusch brand has existed since the 1930's. Ever since they have been producing smoky-savory summer sausage – for the pleasure of consumers around the world. With the new ChickUp's line, based on 100% corn-fed chicken, Eggelbusch caters for on-the-go snacking, leaving its competitors behind.
The new packaging solution has been in preparation for some time, especially the packaging process under protective atmosphere which was tested extensively and adjusted until the optimal solution was found. The high-quality ingredients, the excellent taste and the new packaging design arouse high expectations of the new product line at Eggelbusch.
The Schur®Star Concept – it won't be more flexible
The key elements of the Schur®Star Concept are maximum flexibility and reduced complexity. With the Schur®Star Packaging Machine and the pre-made Schur®Star Bags, which are linked together on a unique string, a smooth packing process is ensured. The Schur®Star bags are customized and meet product-specific requirements. The Schur®Star Packaging Machine allows for a quick and easy exchange between different bag constructions and sizes. A change-over between manual, semi-automatic and fully automatic filling can be carried out just as quickly. The machine can easily be incorporated into an existing production line and likewise be combined with additional equipment – for example weighing, labelling and product treatment by gas flushing. It won't be more flexible!