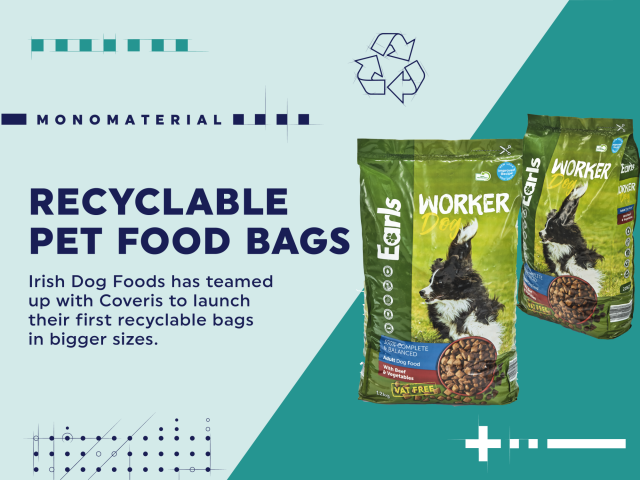 Irish Dog Food, a leading pet food producer in Ireland and the UK, is leading the example of how to achieve a balance between changing market demands and brand positioning at the point of sale. To improve their existing packaging, Irish Dog Food teamed up with its packaging supplier, Coveris, to design their first recyclable bags in bigger sizes. By choosing Coveris' proven MonoFlexE brand, sustainability and shelf appeal requirements have been met.
Bigger and better 
The project's goal was to switch from the existing range of bags with a PET/PE structure, which is not recyclable, to a monomaterial PE structure that enables full recyclability. Additionally, the range included two sizes of 10kg and 12kg bags. "We were able to provide bigger bags with the same benefits as our standard structures with a matte finish, while reducing the carbon footprint and preserving the environment, which was one of the key challenges for our customer," says Philippe Poudens, Key Account Manager Pet Food at Coveris. The matte finish of the bag offers outstanding communication and shelf appeal, which answered both the customer and market demand.

Monomaterial for easier recycling
The new pet food bags are available in Aldi stores in the UK, having launched in the summer of 2021. However, Coveris' cooperation with this supermarket chain goes way further than this product launch. Both companies are signed up to the UK Plastics Pact, which brings together enterprises from across the plastics value chain to drive change in the way we design, produce, use, reuse, and dispose of plastic packaging waste. This initiative supports Coveris' mission of NO WASTE, which aims to provide the best eco-efficient and high-performance packaging solutions both from a product and an operational perspective. The monomaterial solution for Irish Dog Food answers one of the four targets of UK Plastics' Pact, which is to transform 100% of plastics packaging to be reusable, recyclable or compostable by 2025.