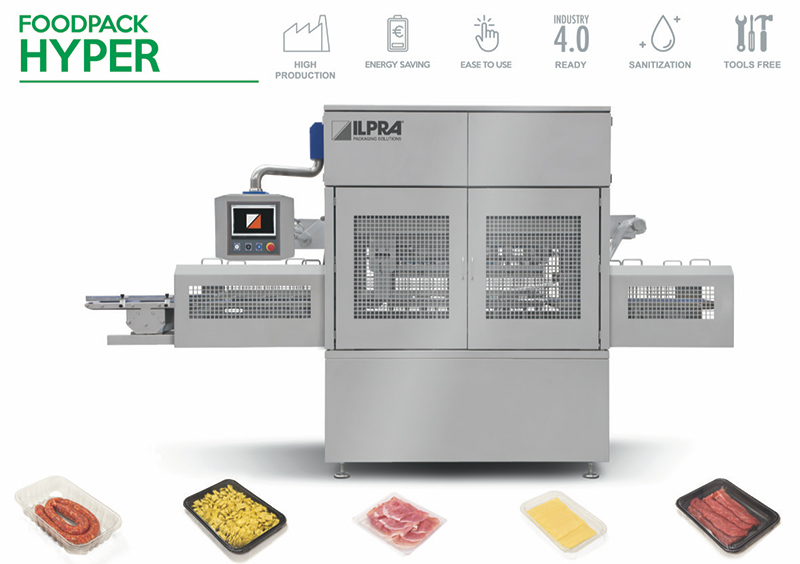 Press Packagingconnections
ILPRA presentsFoodpack Hyper, the new line of heat sealing machines for packaging, designed to satisfy high production and suitable for the packaging of a wide range of products (fruit and vegetables, meat, dairy products, fish, ready meals and much more).
The synthesis of over sixty years of know-how in the field of food packaging, the new line is extremely fast, able to work up to 25 cycles per minute in the gas / flush version.
The welding area has been further enlarged (length 1000/1250/1450 mm x 350 mm optionally at 450 mm length to work on double line). The handling of the containers towards the sealing area takes place through interpolation of axes: two jaws, in complete synergy with the inlet belt, pick up the containers and transport them inside the area with a non-stop flow.
All the work surfaces, the protective doors and the electrical panel are positioned above the machine to avoid stagnation of water or liquids and have been designed to give immediate access to all areas.
Built almost entirely in stainless steel , the line also stands out for its reliability , compactness and a guarantee of durability over time. Excellent performance also with regard to management and maintenance costs : the main movements are brushless and compressed air consumption is minimal.
The other strength of Foodpack Hyper is its ease of use . The touch screen control panel is very intuitive and allows you to quickly store and retrieve work recipes. Furthermore, by means of a badge assigned to the operator, the system keeps a register with full traceability of the permitted and authorized operations based on safety levels and requirements.
Wide range of customization options by combining various options already available such as unstacking systems, trays, dosing, coding and labeling.