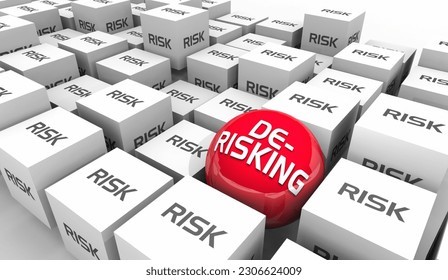 The global call for sustainable practices has intensified, placing the spotlight on industries to adopt environmentally friendly measures. In this context, industry leaders must adapt to the challenges that accompany the transition to sustainability. Strategic derisking is required to ensure consumer awareness as well as consumer adoption.
Understanding the Regulatory Landscape:
To successfully derisk the adoption of sustainable packaging, dominant industry players must first comprehend the evolving regulatory landscape and consumer expectations. A thorough understanding allows companies to align their game plan with current and future environmental standards.
Investing in Research and Development:
Proactive research and development initiatives geared towards sustainable packaging solutions are critical. Investing in innovation not only enhances a company's competitive edge but also positions it as a leader in eco-friendly practices.
Collaborative Partnerships:
Corporations can derisk sustainable packaging adoption by forming strategic partnerships with suppliers, NGOs, and governmental bodies. Collaborative efforts can streamline the transition process, allowing stakeholders to share resources, knowledge, and best practices.
Supply Chain Integration:
Integrating sustainable practices throughout the supply chain is crucial. This involves assessing and optimizing each step, from raw material sourcing to manufacturing and distribution, ensuring a holistic approach to sustainability.
Consumer Education:
Derisking strategies should include comprehensive consumer education programs. Transparent communication about the benefits of sustainable packaging fosters consumer trust and loyalty, paving the path for wider acceptance of eco-friendly products.
Risk Mitigation Plans:
Industry leaders should develop robust risk mitigation plans, addressing potential setbacks such as supply chain disruptions, regulatory changes, or resistance from stakeholders.
Setting Measurable Goals:
Establishing clear and measurable sustainability goals allows companies to track their progress and demonstrate their commitment to stakeholders. This transparency builds trust and credibility within the industry and also among consumers.
Employee Engagement:
Employees play a pivotal role in successful sustainable transitions. Training programs and initiatives that promote a sustainability mindset among the workforce contribute to a smoother adoption process.
Circular Economy Integration:
Embracing a model centered on a circular economy can further derisk sustainable packaging adoption. This involves designing products and packaging with the 3Rs in mind.
Continuous Evaluation and Adaptation:
Derisking is an ongoing process. Continuous evaluation of strategies and adaptation to changing market dynamics, technologies, and consumer preferences ensures sustained success.