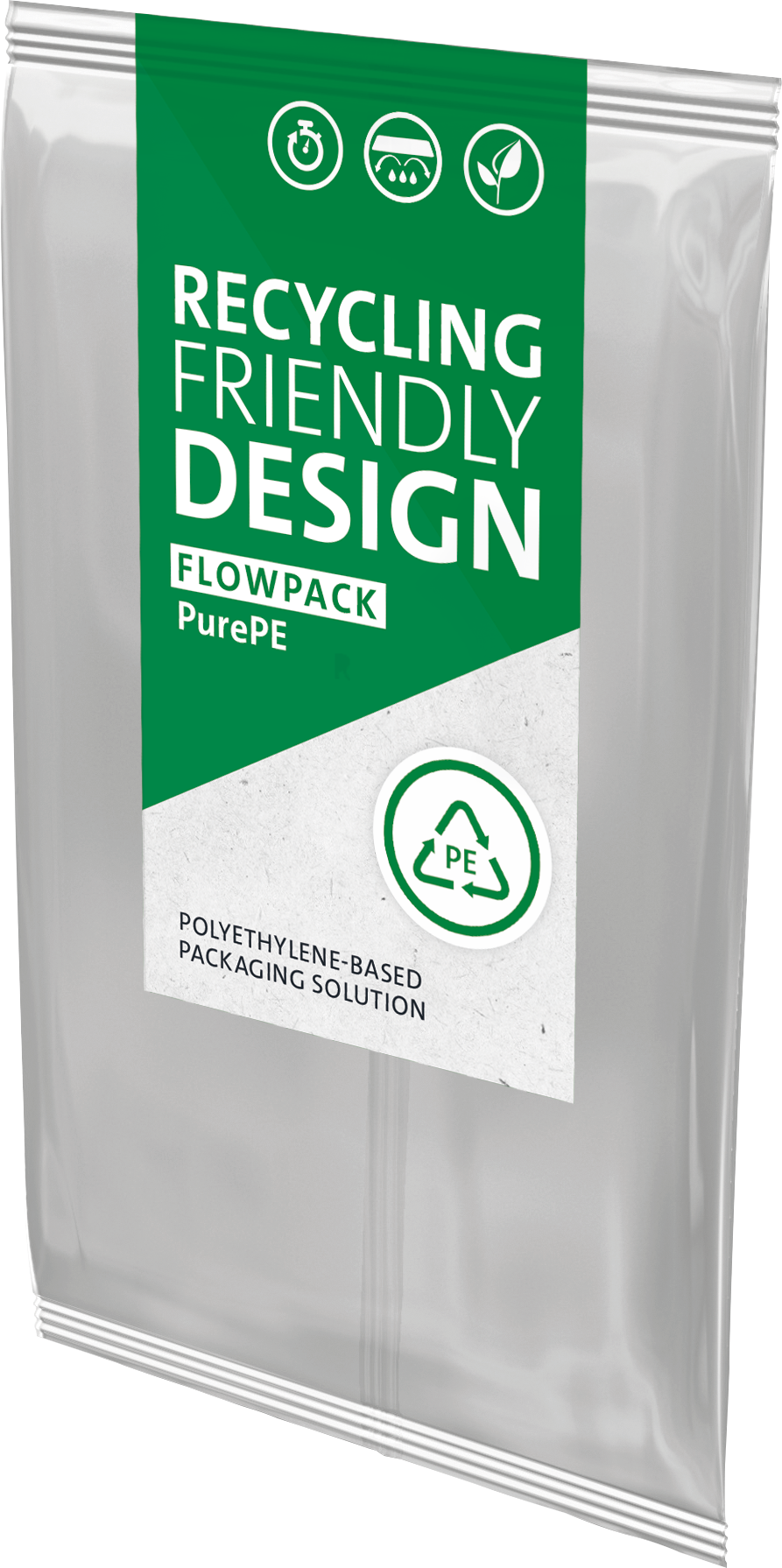 Press Packagingconnections
Flow packs are becoming increasingly popular in the food industry – even in the case of fresh ground meat from prepacked counters, consumers are now resolutely opting for unconventional bag packs. SÜDPACK identified this market trend at an early stage and, above all, adjusted its portfolio to the rising demand for recyclable alternatives. Recyclable high-performance PP and PE-based film for efficiently packaging food in bags, in particular, will therefore be on display on the lines of various packaging machine manufacturers at IFFA in Frankfurt. The film producer will also draw trade show visitors' attention to its PP-based lidding films and their wide range of functionalities, as a recyclable, resource-saving option for packaging food in trays.
These are practical and attractive and perfectly reflect today's modern lifestyle as a trendy packaging concept for bread, cakes and pastries, nuts, snacks, candy, cheese or salami straws, for example. Even 'new food' start-ups are currently extremely interested in flow packs. And for meat products like ground meat or alternative proteins, flow pack is nothing short of a real packaging revolution.
While tubular bags are among the most material-efficient, popular and flexible packaging concepts for sausage, cheese, salad and fruit, as well as frozen fish and shellfish. The solution provider of choice and the first point of contact when it comes to high-performance films for the food industry is SÜDPACK. The film producer offers an extensive range of material structures for flow pack packaging – and has continuously expanded its portfolio to include sustainable film concepts in recent months. The best example is the innovative product family Pure-Line, which in addition to recyclable mono-materials based on PP, now also includes solutions made of PE. Depending on the products to be packaged, the films can be equipped with different barrier properties in order to provide optimal product protection.
Despite their reduced material thickness, flow packs based on Pure-Line films provide a high level of stability that is comparable to conventional packaging systems. Unlike tray packaging, however, material savings of up to 60 percent can be achieved.
The Pure-Line films have been tested on horizontal and vertical flow pack lines from the leading manufacturers of packaging machines. They have also been specifically designed for high output rates and maximum material yield. Moreover, the films are distinguished by a broad sealing range, which results in a high level of process and packaging safety. At the same time, the formation of a sealing layer ensures the simple and efficient in-line application of common zipper systems.
SÜDPACK materials will be presented on the flow pack machines of various leading manufacturers at IFFA in Frankfurt. This will give professional visitors the opportunity to see the concept on both packaging lines for fresh ground meat and on lines designed to package dry products.
Sustainable lidding films for tray packaging
In parallel to this, SÜDPACK has recently completed its range of PP-based and therefore recyclable lidding films for thermoformed and tray packaging. A wide range of trays can be reliably sealed using tear-proof Safe Peel Clear, for example – even if the product leaves residue, such as oil, marinade, spices or powder on the edge of the seal. The transparent top web can be sealed against PP, so that users can easily feed the entire pack into the existing material cycle as a single-material solution.
The film can be equipped with various functionalities for optimal product protection and maximum shelf life of meat and sausage products, dairy produce, as well as fish and seafood. Thanks to its excellent peelability, users can easily open the pack, without ripping the film. These material structures will also be presented on tray sealers from various manufacturers at the leading international trade show in Frankfurt .
If food producers and packaging companies also use SÜDPACK's innovative SPQ technology for package printing, a new level of sustainability is achieved. Because this printing process, which has already been honored with the German Packaging Award in gold, reduces the use of ink and solvents to a minimum and is setting standards in flexo printing with its low carbon footprint – with significantly improved print quality.
About SÜDPACK
SÜDPACK is a leading manufacturer of high-tech films and packaging materials for the food, non-food, and medical product industries. The solutions ensure maximum product protection as well as additional pioneering features with minimum material input.
The family business, which was founded by Alfred Remmele in 1964, is headquartered in Ochsenhausen. The production sites in Germany, France, Poland, Switzerland, the Netherlands and the USA are equipped with the latest plant technology and manufacture to the highest standards, including the capacity to operate under clean room conditions. The worldwide sales and service network ensures a high degree of proximity to the customer and comprehensive application technology support in more than 70 countries.
With its state-of-the-art Development and Application Center at its headquarters in Ochsenhausen, the innovation-oriented company offers its customers an optimal platform for carrying out application tests and for developing individual and tailor-made solutions.
SÜDPACK is committed to sustainable development and fulfills its responsibility as an employer and towards society, the environment, and its customers by developing packaging solutions that are unparalleled in their efficiency and sustainability.
SÜDPACK VERPACKUNGEN GmbH & Co. KG
Julia Gruber
Marketing
julia.gruber@suedpack.com
+4973529251358