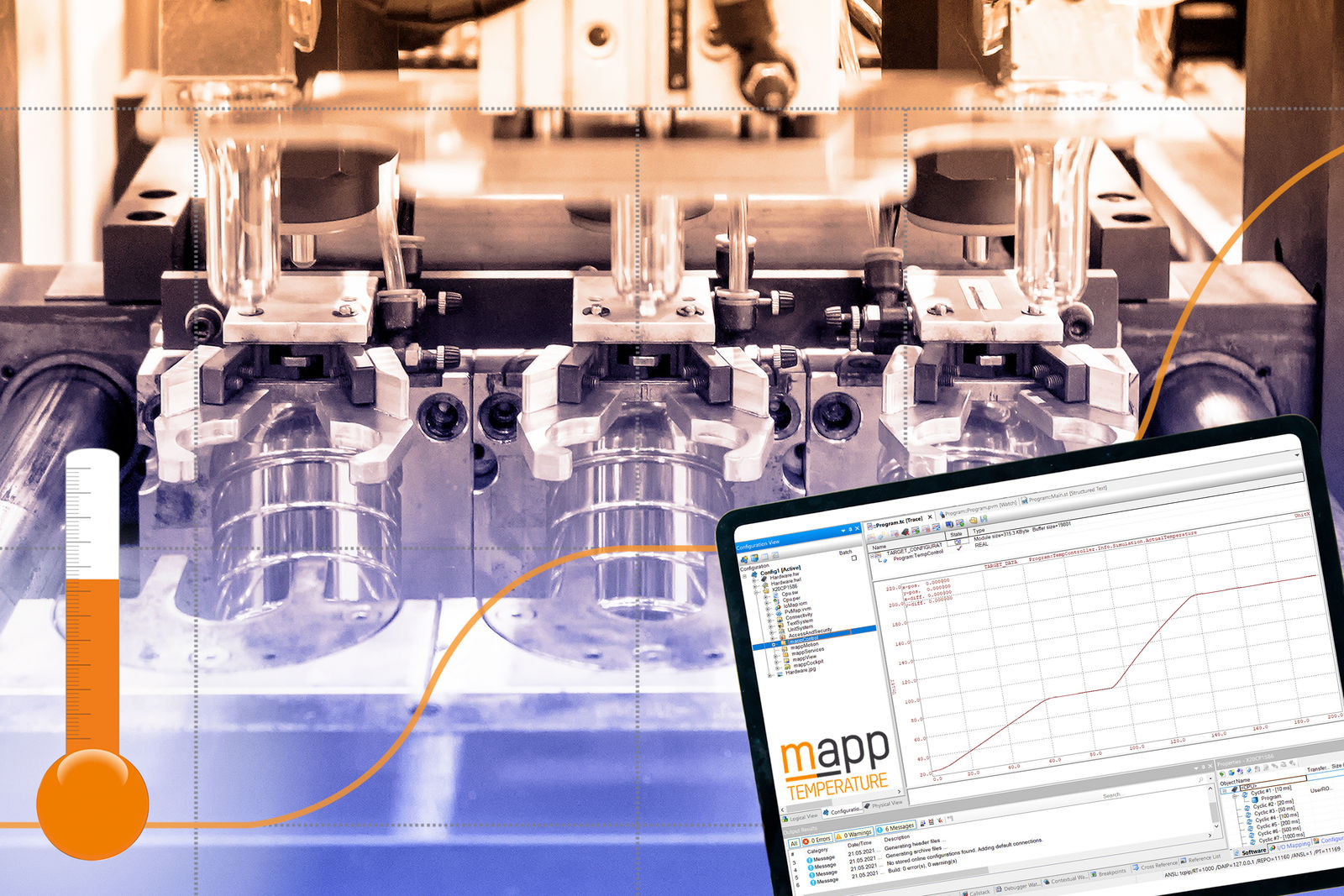 Press Packagingconnections
B&R's mapp Temperature software package provides a new pre-programmed way to get manufacturing systems up to temperature. At the push of a button, the Soft-Start function heats up machine components gently to minimize heating element fatigue – without any of the tedious programming that used to be involved. Homogeneous heating reduces mechanical stresses and allows for controlled evaporation of liquid residues in the machine.
With mapp Temperature's Soft-Start function, equipment such as filtration systems, extruders and injection molding machines can be brought to operating temperature quickly and easily. This is done either by targeted heating with limited power or by using a defined temperature gradient to heat up all zones synchronously. Since the Soft-Start function avoids operating the heating elements at maximum power, it is particularly gentle on the machine's hardware.
No programming required
All the necessary settings, such as the target temperature, are easy to configure in mapp Temperature. Individual heating zones can be adjusted individually, or even excluded from the Soft-Start process if necessary. This makes temperature control much more flexible and offers more options for different heating zones. The heating process is started at the push of a button without any of the tedious programming that used to be involved
About B&R
B&R is an innovative automation company with headquarters in Austria and offices all around the world. On July 6, 2017, B&R became a business unit of the ABB Group. As a global leader in industrial automation, B&R combines state-of-the-art technology with advanced engineering to provide customers in virtually every industry with complete solutions for machine and factory automation, motion control, HMI and integrated safety technology. With Industrial IoT communication standards like OPC UA, POWERLINK and openSAFETY as well as the powerful Automation Studio software development environment, B&R is constantly redefining the future of automation engineering. The innovative spirit that keeps B&R at the forefront of industrial automation is driven by a commitment to simplifying processes and exceeding customer expectations.
B&R Industrial Automation Pvt. Ltd
Pooja Patil
Corporate Communication
marketing.in@br-automation.com
+91 20 414 78 - 999