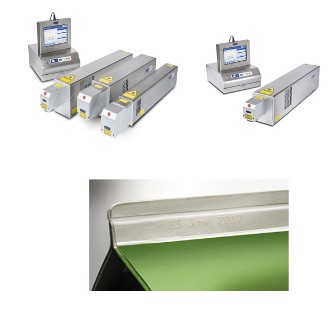 The challenge of achieving the highest quality codes on ultra-fast packing lines with difficult-to-mark substrates in markets such as beverage, food, personal care, automotive andextrusionsis being met with the launch of a new laser marking solutionfrom Linx Printing Technologies.
The Linx CSL60 laser offers a major technological breakthrough, combining a powerful processor and 60W laser tube with Linx's unique Visicode®system to produce crisp, clear codes on difficult-to-mark materials such as glass and PET at high speeds. This enablesmanufacturers to meet all compliance requirements and provides effective brand protection and enhancement.
The laser incorporates a powerful processor that is able to relay messages from the control unit to the marking head very quickly, which ensures that line speeds are unaffected. As a result, up to 70,000 packs per hour can be marked.
In addition, the Linx CSL60 supports production line efficienciesto help deliver Overall Equipment Effectiveness (OEE). For example, the availability of complete IP65 protection for the controller and laser head means that a fully integrated system can now remain in situ during wash down to minimise downtime.
Equally important, the Linx CSL60 offers 25 different head and lens options, providing over 16,000 combinations of lens, marking heads and tubes. This providesthe widest choice in the industry and gives the Linx CSL60 laser the flexibility to be tailored to a customer's precise requirements. It also means that each laser is able to run at its optimum power level, which helps to extend the life of the equipment.
…/
With the SHC150c head option, the Linx CSL60 offers a larger marking field than any comparable laser. This provides additional versatility for the marking of wide web applications such as flexible packaging and outer case coding, and coding of products across multiple lines. This also brings the advantage ofrequiring only one laser where previously two would have been needed, while still delivering clear codes even at small sizes.
The Linx CSL60 has been designed to be easy to install, even on lines where space is restricted, and to integrate with existing packing and labelling equipment. For operators, the proven LinxVision touch screen ensures quick and easy creation and selection of messages for reduced errors, faster setup and minimised downtime.
As with all laser coders, the lack of consumables minimises running costs and eliminates downtime for refilling or cleaning.In addition, the Linx CSL60's air-cooled operation offers further cost efficiencies as no ancillary air cooling or factory air is required.
"In competitive markets, meeting compliance requirements and ensuring your brand is fully protected are vital, but neither quality nor productivity can be sacrificed in achieving these," comments Matt Eastham, Laser Business Manager, Linx Printing Technologies.
"The Linx CSL60 has been specifically designed to satisfy these needs, combining the fastest speeds with superior quality codes."
About Linx Printing Technologies Ltd
Linx Printing Technologies is a leading global supplier of continuous ink jet (CIJ) printers, case coders, laser coders, thermal transfer printers and thermal inkjet printers. Its printers and coders are used across many different industries where product identification codes, batch numbers, dates and barcodes are required.

All Linx products are designed with low cost of ownership in mind and are distinguished by reliability, robustness and ease of use. Linx products code and mark millions of items every day, ranging from bottles, packages and cans of consumer goods to pharmaceutical products, cabling, electrical components and car parts.