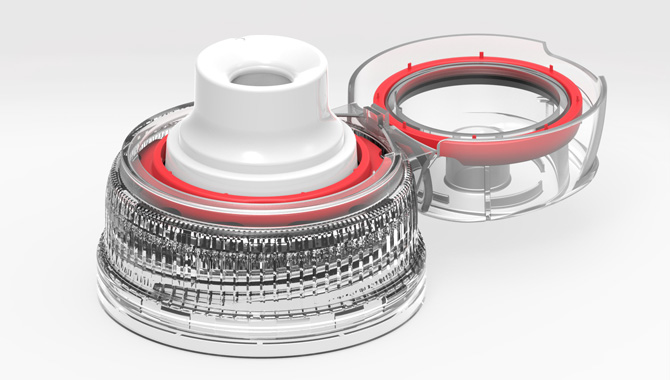 RPC Massmould in conjunction with RPC Astra Plastique (Global Expert Centre for Flip Top Sports Closures) have developed and industrialised a next generation sports cap that breaks new ground with its combination of enhanced consumer convenience and maximum product safety and integrity, along with a contemporary design.
The new Secure Flip Sports Closure features intuitive one-handed opening via an ergonomically designed Thumb Tab. The cap opens to a full and stable 180°, providing easy and comfortable access for the consumer to drink from the closure spout. An audible click confirms that the cap is either fully open or re-closed. The Sustainable Tamper-Evident Band within the closure breaks on first opening. Importantly, unlike other sports caps that feature a detachable tab which then has to be thrown way or in many instances simply dropped on the floor, both parts of the Secure Flip tamper-evident band are retained within the closure. A second tamper-evident Tuck Under Band on the base of the closure features a series of individual upstands that are revealed when it is unscrewed from the bottle. Some of these are pushed outwards when the closure is replaced to provide a visual indication that the bottle has been opened. This overcomes the problems usually associated with creating effective tamper evidence for lightweight neck finishes. The Tuck Under Band design also aids alignment with the capping machinery for optimised efficiency on filling lines.
A further safety device is the unique Triskeles, a three-legged feature within the mouth of the closure that prevents items being dropped into the drink or small fingers getting stuck in the opening. High-tech, high speed manufacturing at RPC Massmould has enabled the Secure Flip closure body to be moulded in the closed position, allowing it to incorporate an innovative IP protected hinge for a more compact overall design and enhanced aesthetics on-shelf.  Secure Flip is currently available in 29.25 and 18.81 neck finishes and can be customised to individual customer requirements with unique colours associated to particular brands and products.