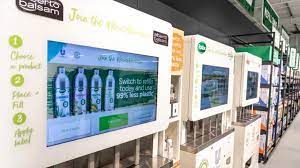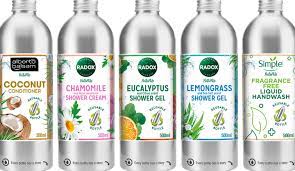 In 2020, Unilever announced their largest in-store refill trial in Europe, in Asda's sustainability store in Leeds. Since the launch, they have been able to review our progress as the appetite for refillable products increases and consumers look to reduce their plastic consumption.
With the Asda trial proving popular with shoppers, they are expanding our refillable packaging trials across the UK. This includes our first-ever 'return on the go' pilot where shoppers looking for a quicker grab-and-go purchase can pick up a pre-filled stainless steel bottle from the shelf and return it in-store once used, where they are collected to be cleaned and refilled.
The bottles, which are pre-filled with some of our best-known UK brands – including Persil, Simple, Radox and Alberto Balsam – will be available in selected Asda and Co-op stores by the end of the year. They will be placed in-aisle to see if integrating refillable products into usual shopping habits will increase uptake.
In addition, we will continue to test 'refill on the go', where consumers can purchase and refill reusable stainless steel bottles using a standalone refill machine.
These new test-and-learn trials will be the first of their kind at this scale in the UK. The aim is to gain a deeper understanding of the likelihood and habits of consumers using refillable and reusable packaging. They will evaluate different refill models, store formats and in-store locations, as well as different shopper experiences that could enable long-term use of refillable products.
"To tackle plastic pollution with the speed and urgency needed, we must create scalable solutions which make it as easy as possible for people to make sustainable choices," says Unilever UK & Ireland EVP & General Manager, Sebastian Munden.
"We believe refills could be a game-changer in our ambitions to halve our use of virgin plastic by 2025; however, unlocking the full potential of the reuse economy requires a shift in mindset of how people shop. We are testing different refill models on a large scale in order to continue to build our understanding of how to enable this change most effectively."