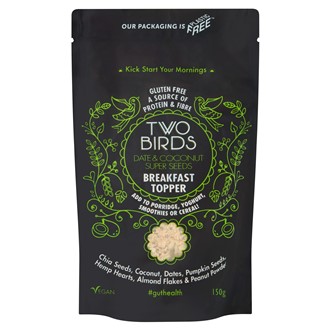 Two Birds Cereals, the manufacturer of a range of super seed breakfast toppers, has enhanced its brand ethos with new plastic-free, home compostable packs developed by packaging solutions specialist, Parkside.
Manufactured from wood-pulp that has been sourced from waste from eucalyptus plantations, the packs comprise a multi-layer laminate which offers high oxygen, aroma and moisture barriers to maintain optimum flavour and freshness, helping to extend the shelf life of the product contained within.
The packs are designed to break down within 26 weeks in a home composting environment, gaining accreditation from TUV (formerly Vincotte) and are available in a range of aesthetic options including white, matt, clear, metallised and kraft.
 Tricia Traynor, Co-founder of Two Birds Cereals, said: "These new packs are officially certified as home compostable in line with our ethical philosophy. We always aim to use sustainable and recyclable packaging so we could not turn down the opportunity to work with Parkside to bring their innovative compostable packs to Two Birds."
Parkside's compostable laminates are durable and impermeable, just like traditional plastic packaging, making them safe to use for food packaging. They are rigorously tested for eco-toxicity and a host of other criteria against EN 13432. The compostable laminates took eight years of research and development by the innovation team at Parkside and, to date, the company has developed more than 20 accredited home and industrial compostable laminate structures designed to replace traditional plastic packaging.
New Business Development Manager at Parkside, Paul Lenihan, said: "Food manufacturers, brands and retailers are looking for packaging solutions which strengthen their green credentials. Two Birds has sustainability as a core value of its business and we are extremely proud to have been able to partner with the team and add a new chapter to their brand story."