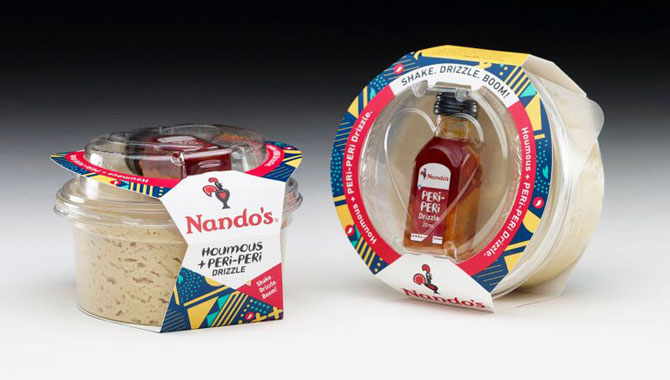 Madhu Sudan Singh Chauhan
In order for users to control the strength of the houmous and dip combination, as well as to help extend the product's shelf-life, the sauce is supplied in a separate bottle and can be poured onto the dip as desired.
RPC Bebo's pack solution for manufacturer Zorba Delicacies comprises a pot with a specially-designed lid that is able to hold the bottle separately and securely, while ensuring it is visible on display. The design by Snapp Design takes its inspiration from forms found in traditional African clay pots, being the birthplace of the Nando's brand.
The transparent lid is shaped by a tapered silhouette creating a smaller circular top surface that echoes the traditional pot's aperture. The drizzle bottle is secured into the lid by means of moulded indents which prevent movement during transit as well as securing the branded card sleeve which highlights, to the consumer, the unique addition of a sauce to this product.
Adding to the spirit of the brand, the embossed heart, seen in the iconic Barcelos cockerel, creates a focal point around the bottle and embodies the passion which goes into every Nando's product.
Once the branded card sleeve is removed, two embossed Nando's wordmarks on either side of the round lid are a subtle reminder of what is inside this packaging… 'an experience that will fire your senses'.
RPC Design worked on the original concept to develop the appropriate cavity shape and retaining lugs to ensure that the bottle is held in place, with a series of drop and transit tests carried out to perfect the solution. The use of PET also gives the pack the necessary strength and flexibility while delivering excellent clarity to maximise the appeal of the product on-shelf.