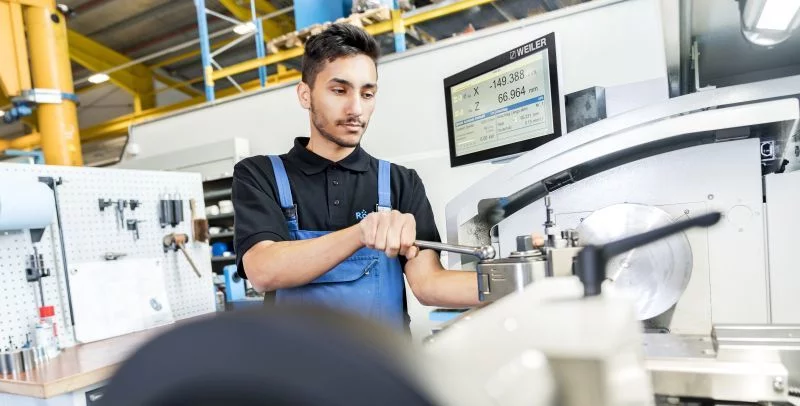 Press Packagingconnections
Many people think of a hammer and screwdriver first. The apprenticeship has little to do with the workbench at home. Hendrik Schulte, apprentice at Röchling in Haren, and Egzon Berishaj, who successfully completed his apprenticeship at the beginning of 2020, share experiences from the apprenticeship at their workplace and explain what makes the tool mechanic a future-oriented profession and for whom it is not at all suitable .
When it comes to training as a "tool mechanic", you first have to dispel a prejudice that is in your name. While toolmakers used to make common tools such as hammers, saws and files to equip handicraft businesses, there is now something completely different behind the apprenticeship in modern industrial companies.
Today the tool mechanic manufactures complex and technically sophisticated tools of all kinds for industrial series production. Hendrik Schulte knows that too. He has been completing his apprenticeship at Röchling since 2018. The plastics processor from Haren uses various processes to produce sheets, profiles and machined components made of plastic. The company uses modern precision tools for industrial processing, such as drawing, pressure, stamping and forming tools as well as compression molds.
"As a tool mechanic, I am learning to manufacture the tools that are used in our production exactly according to the required specifications," explains Hendrik. It is very important that the components function reliably. Because: without tools there is no production, without production no products!
Demanding profession
The tasks of the tool mechanic are therefore varied and technically demanding. In his apprenticeship, Hendrik learns everything about the professional planning, manufacture and repair of tools. "To do this, I read technical drawings, learn how to operate processing machines such as drilling, turning and milling machines, and how to program CNC systems. I really enjoy it. I have always wanted to work practically, "says the 21-year-old.
Above all, accuracy plays an important role. In order for tools to function reliably, they have to meet high precision requirements. Tool mechanics check the dimensional accuracy of workpieces down to a hundredth of a millimeter. If you are interested in the training, you should bring a lot of care along with technical understanding and manual skills. "An important part of our work is working precisely according to drawings and tolerances," emphasizes Egzon Berishaj, who has already completed his training at Röchling. "Only those who work precisely are able to manufacture tools precisely." Thumbs up? This is out of the question for tool mechanics!
At Röchling, you start this training after graduating from the metal technology vocational school. However, high school graduates have also opted for this training in recent years due to the good professional prospects. In any case, it is particularly important to be interested in scientific subjects such as mathematics and physics.
After successful training, the career prospects are very good. With their technical know-how, tool mechanics are important specialists in industrial series production. At Röchling, they are therefore used in many areas in which plastics are further processed by machining, and they are therefore very easy to take over and use. With some professional experience, there is also the option of further training to become a master craftsman or technician.