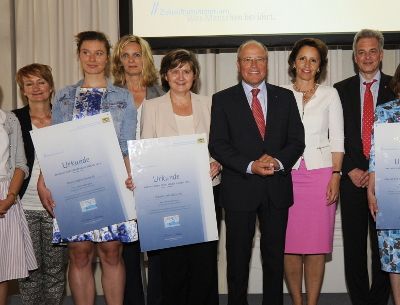 Press Packagingconnections
(SIEgER is a German play on words: "SIE" stands for SHE, "ER" stands for HE, while the term itself means "WINNER".)
Seven regional juries, comprised of representatives from the Bavarian economy, trade unions and the governments' economic departments, had previously received a personal impression of each competitor's family-friendliness by means of an on-site visit and then selected the 41 "best practice" companies in the region from 111 entrants.
The prestigious Bavarian jury – which included Haderthauer, Alfred Gaffal, president of the Bavarian Business Association, and Matthias Jena, chairman of the Confederation of German Trade Unions (DGB) – selected the three Bavarian "SIEgERs" from these 41 companies. LINHARDT was the winner in the "large-scale enterprise" category.
Haderthauer paid tribute to LINHARDT's consistent overall concept concerning the equality of men and women in the working environment and the compatibility of family and gainful employment. This means that employees can choose from over 100 different shift models so that they can balance work and family as flexibly as possible. Furthermore, parents can leave their children in the care of a nearby nursery, even during the school holidays. The certificate was accepted by a LINHARDT delegation led by its managing director Dr Monika Kopra-Schäfer.