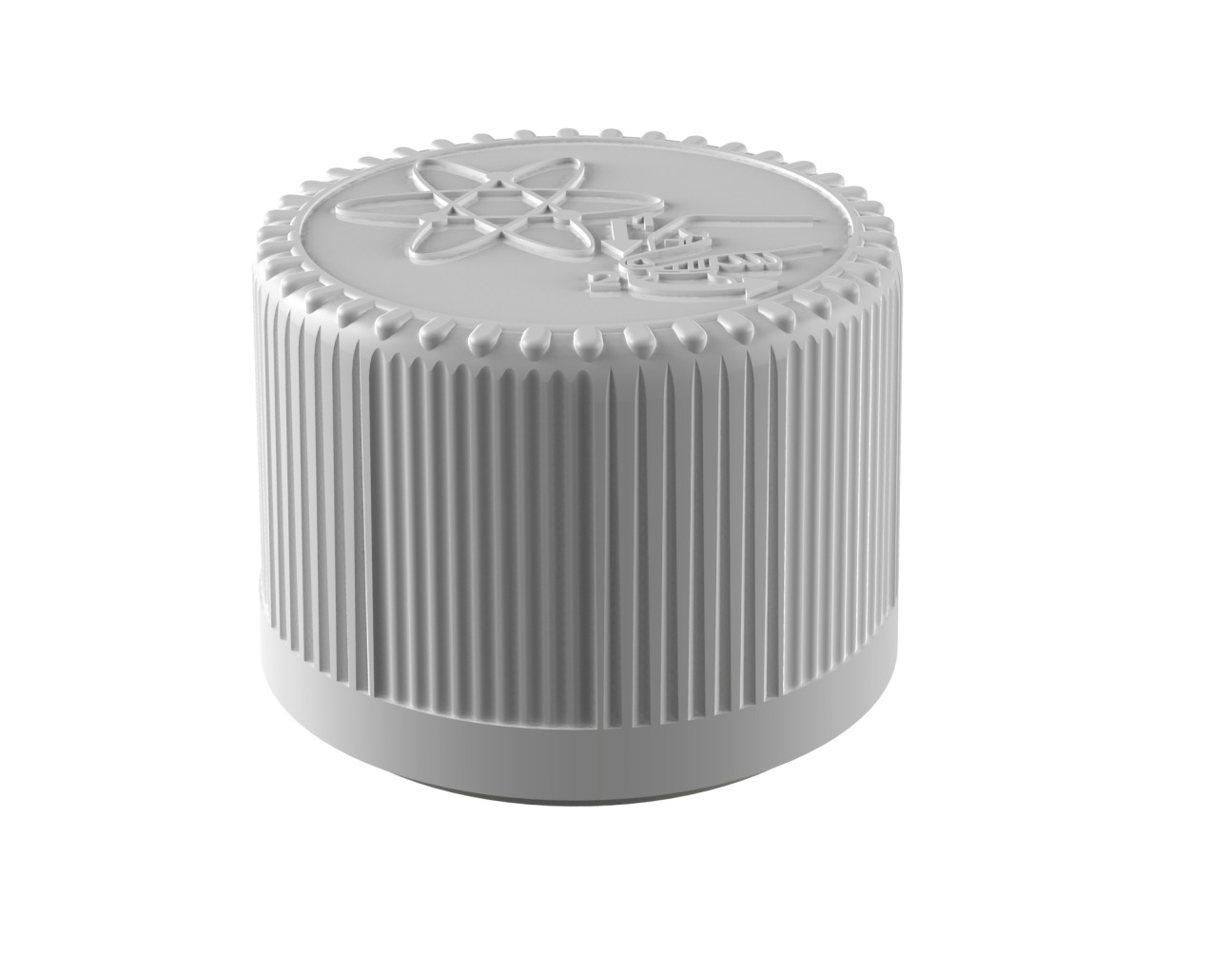 PP28 (child resistant) closures that have been developed to offer flexibility within the marketplace. Designed, engineered and strategically optimised to be the lightest PP28 closure of its type. This exciting closure development encapsulates the drive to have a dynamic closure that not only delivers a solution to the call for reduced polymer weight, but also provides a truly flexible approach to design and delivery. In addition to reduced polymer content this closure can be branded, bulk packed and produced in a range of colours at lower volumes than normally required.
Branding:The closure is designed to assist you in your drive for brand dominance by utilising the flexible features of this primary packaging component. You are able to deliver branding using the colour applicable to your brand and also to have your brand logo embossed on the crown of the cap. Differentiating your primary packaging from your competitor in today's market is paramount. With the new PP28 closure this possibility becomes reality.
Bulk Packaging:In today's crowded world there is a huge emphasis on reducing waste and limiting our impact on the environment. The new PP28 closure development will offer the service of bulk packing with the ability to reduce outer packaging by up to 25%. The development of the closure has also been thoughtfully compiled to ease the legislative and regulative burdens on companies to increase sustainability within their supply chain.
SealSafe Syringe Adaptor:Many OTC products produced are now being advised to have a dosage device included in the packaging. The optional, pre-fitted SealSafe adaptor is a new generation device that uses valve technology to prevent unintended access to your product whilst providing easy and accurate dispensing with minimal risk to over-dosing. The SealSafe device also provides a measure of protection against falsified medicines.
Lightweight:Designed, engineered and strategically optimised to be the lightest PP28 closure of its type. The project commenced on the notion that the closure will reduce materials used to enable users to reduce their carbon footprint and reduce costs in transportation. The light-weighting of the closure has evolved over many months and great care taken to ensure the efficacy of the child resistance is not compromised.
Measuring Beaker: A bespoke measuring beaker has been developed in conjunction with the PP28 closure. A perfect fit in combination, this provides an alternative low cost option to accurate dosing with custom embossing available to assist the correct dosing of your product.