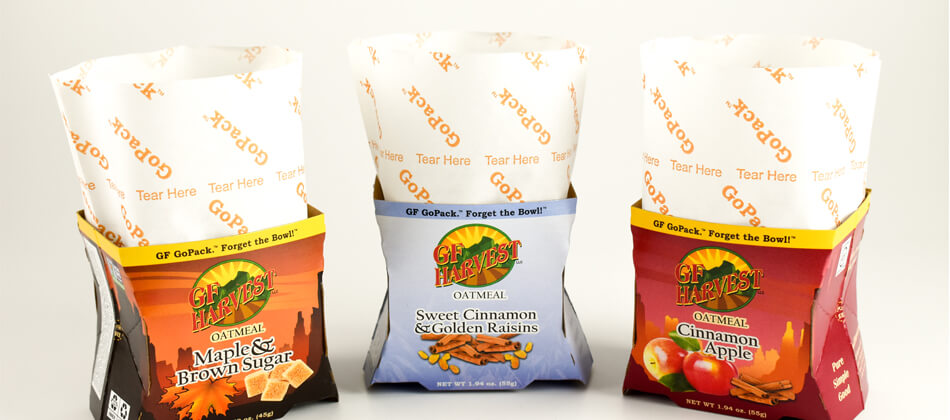 Designed for hassle-free on-the-go eating, Integraflex™ combines the best characteristics of folding carton and flexible packaging to deliver a user-friendly compact pack that's simple to open and reseal.
GPI European Marketing Manager, Rakhee Percy, said: "Cfia is the ideal international showcase for GPI to exhibit Integraflex™ and we are looking forward to demonstrating its stand-out features.
"The pack is ideal for both consumers and retailers; able to stand on its own for easy preparation and filling, it provides food vendors with an efficient solution for packaging anything from hot fries and sandwiches to muesli. Consumers meanwhile benefit from its excellent food protection and unique constructional design, such as the flexible component's ability to transform into a placemat."
The product is as valuable for the environment as it is for retailers and consumers, with its renewable, recyclable materials improving the sustainability credentials of single-use packaging. It can also be made to size to keep material usage and costs to a minimum, allowing retailers to reduce their carbon footprint.
Integraflex™ is available in a wide selection of materials, laminations and coatings and offers an extensive choice of shapes, opening features and films, with flexible options including microwavable and ovenable films for exceptional versatility. A premium quality printing surface also allows both flexible and rigid pack elements to be branded with high-resolution graphics for superb customisation and shelf-facings.
In addition to launching Integraflex™, GPI will also show its groundbreaking FruitPack® range of eco-friendly fresh produce packaging products at Cfia. A sustainable alternative to plastics, it includes a variety of shelf-ready, mono-material cartons which can be fully branded and deliver reliable food protection and preservation.
Due to be held on 13-15 March 2018 at the Parc Expo Rennes Aeroport in Rennes, France, Cfia is France's key food processing event and is expected to draw more than 1450 international exhibitors. Displaying the industry's most exciting new products and trends, the event explores what the future holds for food packaging.