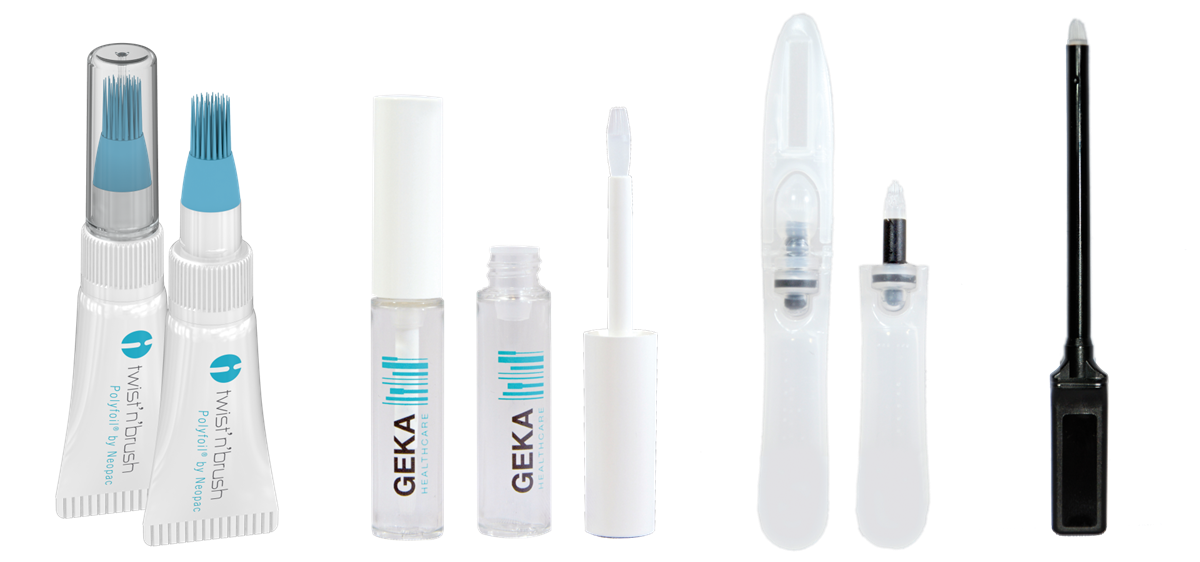 MBA™ main benefits
Combined deposition and application
Increased precision of application: precise track or dot, reaching hidden areas; adjusted rigidity and perfect resilience
Increased dosage precision with simple devices: consistent and patient-independent
Systems hygienic and pure, using only pharma grades
Drawbacks of other application systems (fingers, cotton tips, nail brushes, spatulas…) avoided, such as lack of application, precision and dosage, fibers detachment, poor hygiene, lack of sterility.
Various material grades adapted to expected application results
Systems easy to process (standard filling and handling) and to use (intuitive for patients)
MBA™ applications example
Skin care products, dermatology (Rx, OTC, Cosmetic), for eg: Wound treatments, Anti-fungals, Anti-warts
Nail and cuticle treatments
Foot care
Oral / Labial care, for eg: Herpes, Aphtas, Mucus membrane treatment
Dental products, for eg: gum treatment, bleaching, preparation application Eye care, for eg: ointment application, infections, lashes/brow growth and treatment, eyelid drug deposition
Hair and scalp treatments
Animal health
Diagnosis
If patients can easily find deposition systems for liquid / semi-solid drugs, they face a real lack of suitable application systems for these drugs, in particular if looking for precise and hygienic dosing with pharma applicators. Therefore, we have used our expertise in injection molding technology and patented processes to provide systems that combine these two attributes to fulfill pharmaceuticals and cosmetics needs: these systems uses the technology of extremely fine and soft micro-bristle applicators (MBA™); offering a precise, gentle, hygienic and simple way to apply products on various body areas.
Key characteristics MBA™:
Applicator with a density of bristles > 6 bristles/mm²
Length of each bristle is ten times bigger related to its basis diameter
Standard applicators: Up to 62 bristles and 6.7 bristles per mm²
Main design characteristics
Various possible platforms
Dip-in (patient dips applicator in the formulation and then applies it)
Flow-through (patient presses a container with formulation, allowing product to flow between the micro-bristles)
Various usage formats
Single usage dip-in applicator sticks
Single usage flow-through applicators on mono dose tubes and Blow Fill Seal (BFS)
Multiple-use applicators mounted on caps, tubes, pumps
Industrial collaboration to partnership for containers
Fully customized concepts