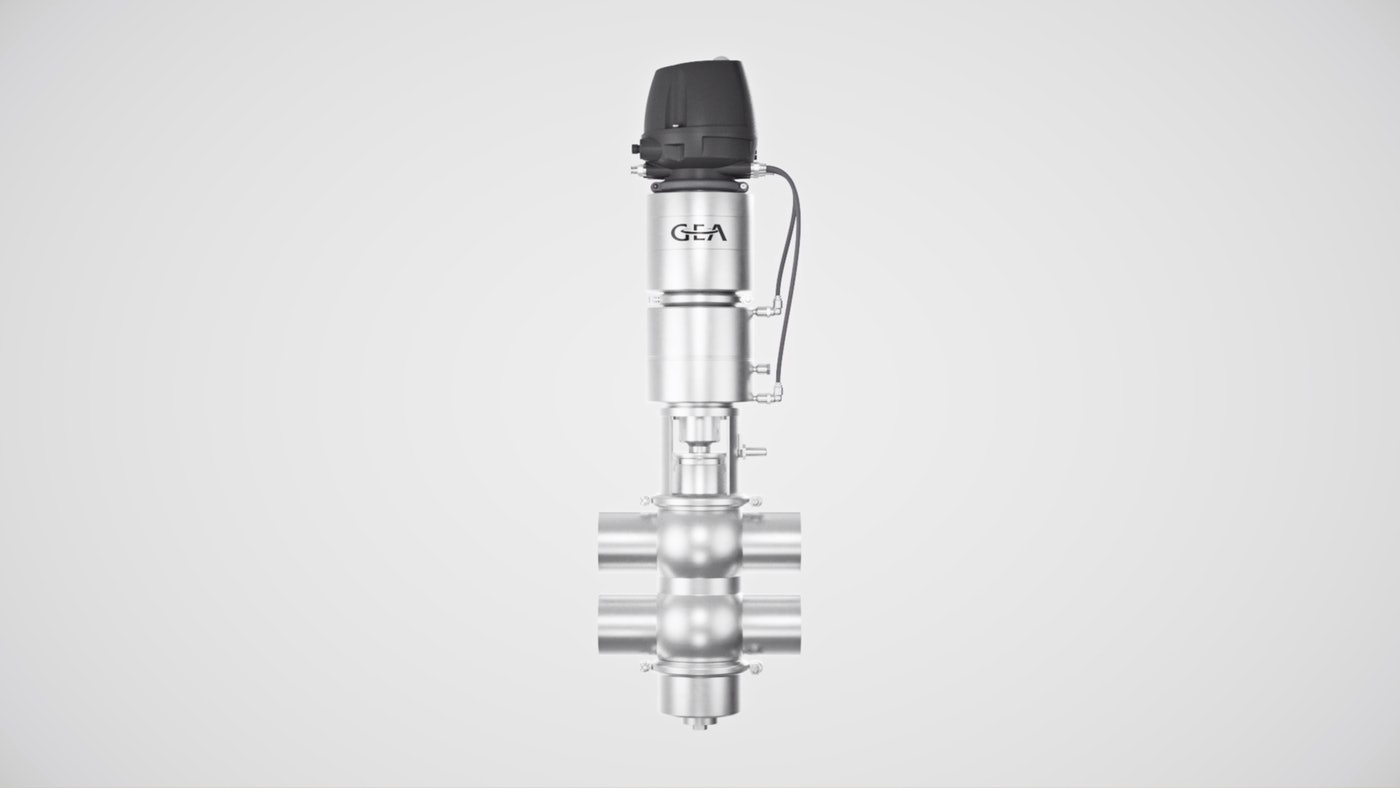 Grania Jain
The GEA Varivent MX mix-proof double-seat valve has been designed with elements that keep products from mixing with the cleaning liquid, even under exceptional loads. The cavity chamber is fitted with a vacuum self-drainage system and balancers on both valve disks. For maximum physical safety, GEA makes use of the Venturi effect: This is created by the special shape of the flow channels, which causes a vacuum on the opposite seal during lifting, preventing pressure increases. As a result, no cleaning liquid can enter the opposite pipe carrying the product while a valve seat is being lifted or cleaned, even if a seal is defective.
Double balancers prevent overpressure
When new systems are set up and adjusted in a short time, there is a higher risk of overpressure during operation. The valve disks must stay in place when these water hammers occur, and the valve must remain closed. For this purpose, GEA has equipped the valve disks in both pipelines with balancers—pressure compensators. This makes the closed valve resistant to water hammers up to 50 bar in the upper and lower pipelines. The new MX valve type also has an integrated balancer cleaning device. It ensures that the balancer is completely flushed from the outside during seat lifting at the same time as cleaning-in-place is realized. All surfaces in contact with the product can be cleaned without any additional components protecting the product from contamination.
Entire valve unit ensures process control
To ensure maximum control, GEA's hygiene concept includes the entire valve unit, including the control top. By means of the GEA T.VIS control top, GEA integrates the double-seat valves into the automation concepts of the units. In this way, the operator can monitor the exact switching position of the valve at any time and be fully aware of the valve functions. This makes the processes even more reliable. GEA wants to encourage manufacturers to take this step, because control tops have immense potential in the light of predictive maintenance and process sustainability. They would also help plant operators boost the traceability and verifiability of the hygienic process chain.