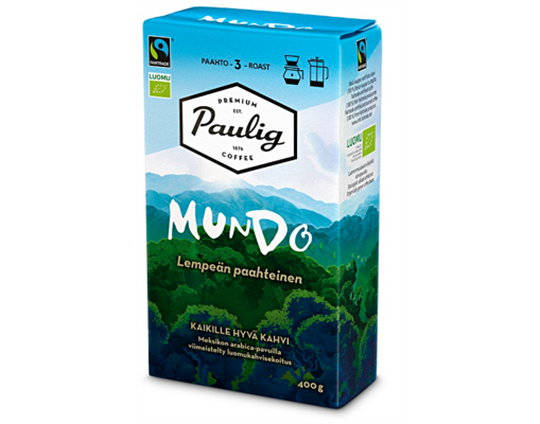 Climate change is harming our planet's fragile ecosystems, driving the movement for drastic cuts to carbon emissions at a global scale. All industries have a part to play in this transition towards a low-carbon economy, including manufacturers of consumer goods.
The snacks, seasoning and coffee producer Paulig Group, together with Mondi, is responding to this challenge. Paulig Coffee brand is the market leader in Finland and the Baltics, and is the second largest provider of coffee in Russia.
The company strategically works to reduce its environmental footprint. In Finland for example, all its coffee roasteries run entirely on renewable energy.
Paulig has made a commitment to reduce its carbon emissions by 40% by 2020. To meet the target the entire supply chain is involved, including packaging.
The Finnish coffee manufacturer approached Mondi in autumn 2016 to find a packaging material with a lower carbon footprint.
Mondi successfully reduced its own carbon emissions by 38% between 2004 and 2017; the Group's cooperation with Paulig is partly motivated by shared values and a joint commitment to reduce carbon emissions in line with climate science recommendations.
The two companies began to look into more sustainable packaging materials, starting with Paulig's Mundo brand of high-quality, aromatic and Fair Trade and Organic certified coffee.
The majority of coffee packaging is made from laminates that contain layers of oriented polyamide (OPA), aluminium and polyethylene (PE), which form a crucial barrier against oxygen and light.
Kati Randell, Senior Manager for Strategic Packaging Development at Paulig, explained: "In the last five years, we managed to reduce laminate thickness by 10% per packaged kilogramme, without compromising on vital product protection. But we wanted to take our commitment to sustainability even further.
" Initially, Paulig considered biodegradable packaging materials but soon realised that renewables offered more potential for reducing carbon emissions. The objective is to replace all fossil fuel-based materials, including conventional PE, with renewable alternatives for Paulig's coffee packaging by 2025.
Mondi quickly responded to our needs and developed an alternative, bio-based PE material made from sugarcane in just over six months, Randell added. Coffee packaged with the new bio-based laminate is expected to hit the shelves during early summer 2018.
The new bio-based laminate from Mondi consists of a mix of standard PE and sugarcane-based PE, which provides the necessary peelability for easy opening.
Ultimately, this reduces the amount of fossil fuel used. In the future, Paulig aims to use even more bio-based PE in its coffee packaging.
"We hope to continue our collaboration and boost the popularity of bio-based PE," said Christian Höglund, Business Development Manager at Mondi Consumer Goods Packaging.
"When Paulig reached out to us, we had actually just completed the development of our bio-based laminate, among other sustainability projects. The timing was perfect – we simply needed to find out if the laminate was suitable for coffee applications. The production trials on Paulig's vacuum pack machines went smoothly and worked well with their existing production and set-up," Christian Höglund recounts.
With sealing temperatures and sealing times comparable to standard PE laminates, the bio-based alternative performs in terms of technical applicability.