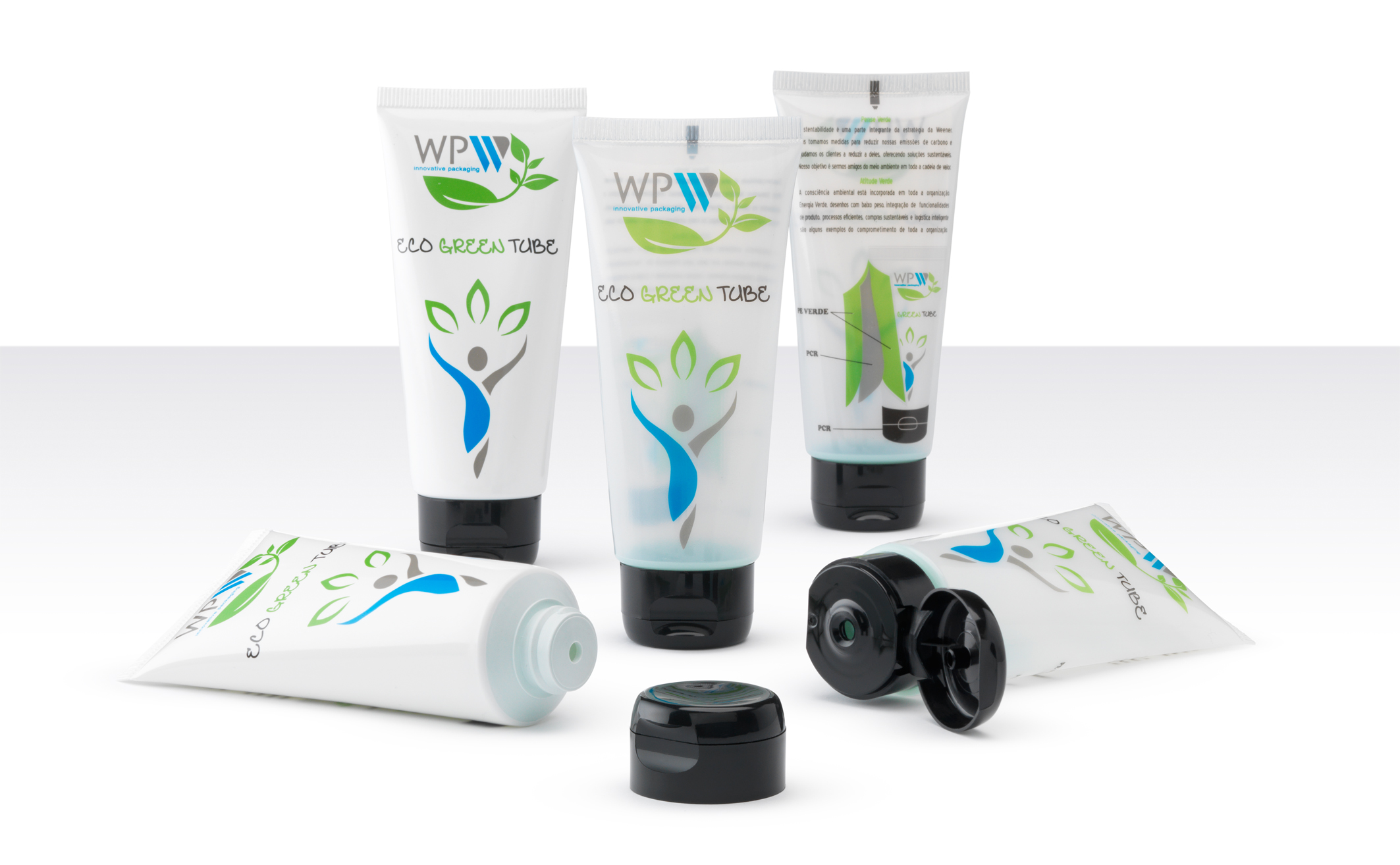 The inventive Weener Plastics (WP) development team in Brazil has developed the Eco Green Tube, a non-environmentally friendly single-material extruded tube for use in personal care or other packaging. Sustainability was the main challenge for the development of this tube, being the first true "green tube" in the market. With a production base in Brazil, it has the Latin American market as its target.
For many years WP in Brazil has been a renowned supplier of high quality plastic tubes to the market. WP recognizes the importance of sustainability and is incorporated into the strategy. Therefore, the Brazilian team has developed this innovative 3-layer Eco Green tube. The inner and outer layers are made from biologically-based polyethylene, while the middle layer is made from 100% recycled post-consumer polyethylene (PCR). The flip-top cover is made of 100% polypropylene PCR.
High quality
The goal was to develop a green and sustainable extruded tube without compromising on product quality and functionality. Cooperation with suppliers of raw materials and extensive testing contributed to finding qualified materials. The correct PCR classes were selected for the tube and cap to maintain the same performance requirements. Eco Green Tube is compatible with all types of formulations that use virgin monolayer material.
The first launch is a 40 mm tube, but if requested, the WP can develop other standard diameters to create a green tube line. Customers can choose different holes depending on the properties of the formulation. WP offers different decoration technologies, such as dry offset, flexography, silk screen, hot stamping and labeling. There are no limitations to the color of the tube, including transparent tubes are feasible. Due to the PCR material, the color of the cap is, however, limited. Dark and grayish colors work best. The price level is similar compared to the current virgin products on the market. Green Target Market
Eco Green Tube was developed especially for environmentally conscious customers who are driven by ecological thinking and who can have defined sustainability goals. The green tube may be interesting for local and regional brands, but also for own brands. Brazil is the initial target market for this tube, but can be supplied to other Latin American countries.
The Eco Green Tube is one of the examples of green initiatives of WP that are part of the programs of circular economy that the WP initiated. Earlier this year, PCR caps and overcaps were marketed with great success. The WP turns sustainability challenges into new opportunities to stimulate the circular economy.