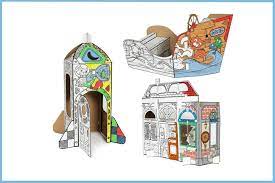 Grania Jain
A player committed to the circular economy and a major supplier of sustainable and recyclable packaging solutions; DS Smith France has collaborated with the Carrefour distributor to produce 3 large-format cardboard toys. Manufactured in 200,000 copies, they will be distributed from March 28 in all Carrefour brands (hypermarkets, supermarkets, and convenience stores) throughout France, as well as on Carrefour.fr.
Cardboard toys "made in France" for the whole family
Produced locally at the DS Smith plant in Seine-Maritime, this range of eco-responsible toys will be sold at the attractive price of €10 each throughout the Carrefour network, in France. Boat, house, or cardboard rocket, young and old will enjoy painting and coloring these XXL toys. By personalizing their toy in this way, they will be able to express their imagination and creativity.
A project that combines circular economy and social action
This line of XXL toys offers consumers a sustainable alternative to non-recyclable toys. Cardboard toys come from the recycling of used and recovered packaging, such as that from Carrefour stores. The latter constitutes the raw material necessary for the manufacture of recycled paper, then for the production of new 100% recyclable packaging.
This project also has an important social dimension since the packing of the toys has been entrusted to people with disabilities. This new range of toys thus responds to the growing demand for ever more responsible and sustainable consumption.
Ambitious sustainability goals
DS Smith undertakes:
by 2023, to manufacture 100% reusable or recyclable packaging,
by 2025, remove 1 billion single-use plastic items from supermarket shelves,
by 2025, to optimize the use of fiber for each supply chain in 100% of its new packaging solutions,
And by 2030, reduce its CO2 emissions by 30% compared to the reference values ​​of 2015 to reach zero net emissions in 2050.
Accelerating the transition to a circular and regenerative economy
In addition, DS Smith recently launched the "Circular Design Metrics", an innovative new tool to analyze and compare the performance of packaging in terms of circularity. Finally, the Group also announced that it would invest 115 million euros over 5 years in its new R&D and innovation program to accelerate its efforts in favor of the circular economy.