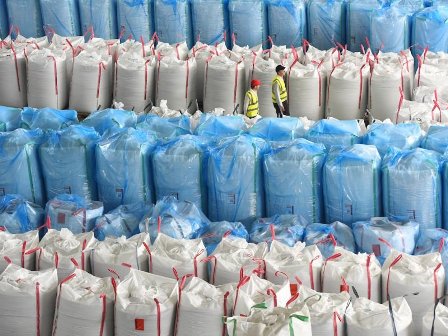 The increase to 50 per cent will be made possible by a new deal with Clean Tech, which operates Europe's largest and most advanced plastic bottle reprocessing facility in Lincolnshire. The multi-million pound commitment to purchase recycled plastic from Clean Tech will see Coca-Cola build on its five year relationship with the company and source all of the recycled plastic it uses from within Great Britain. It also means that once bottles have been recovered and recycled they will return to shop shelves as part of new packs in as little as six weeks.
In order to use more than 50 per cent recycled plastic, further changes are needed to the recycling system in Great Britain - more plastic bottles need to be recovered and recycled to increase the availability of high quality recycled plastic fit for food use. Therefore, as part of the Company's new sustainable packaging strategy for its business in Great Britain, Coca-Cola is also calling for reform of the current collection and recycling system in GB.
At present, only 70 per cent1 of the cans and 57 per cent2 of the plastic bottles used each year are recycled. Whilst these numbers are better than in some countries, Coca-Cola believe changes should be made to increase recycling rates. In its new sustainable packaging strategy for Great Britain, the Company sets out the key actions it will take and the areas in which it will seek to partner with others to improve the recovery and recycling of drinks packaging to help stimulate the circular economy and reduce litter.
The new strategy is focused on three key areas:
1) Continuing to innovate to ensure its packaging is as sustainable as possible
In addition to ensuring that all of its packaging is 100 per cent recyclable, the Company will double the amount of recycled plastic in every one of its bottles over the next three years – from the current 25 per cent to 50 per cent by 2020.
2) Investing in marketing and advertising to promote recycling and encourage behaviour change
As part of the new strategy, Coca-Cola is launching a new multi-million pound communications campaign designed to inspire more people to recycle. At the heart of the campaign is an advert called Love Story, which will break on TV on at the end of July and run across TV, cinema and digital channels. The advert features two love struck plastic bottles who are parted and then reunited as they are disposed of properly, recovered and then recycled into new bottles. The campaign will reach 35 million Britons by the end of this year. The Company will also be putting a new recycling message on bottles later this year and promote recycling to six million people at festivals and events.
3) Championing reform of the recycling system in Great Britain to ensure more packaging is recovered and recycled
The Company will continue to work in partnership with others – including the Governments of Great Britain – to improve the current packaging recovery system. It will give its support to well-designed new interventions that increase recovery and recycling rates, including deposit return schemes.
In addition, as part of its commitment to support DEFRA's working group on voluntary and economic incentives, the Company will seek to advance its own knowledge of how consumers are motivated by an incentive-based scheme by testing an on-the-go bottle recovery and reward programme. This test will examine the behavioural impact of reward schemes and help inform any future national approaches to reducing litter and increasing collection and recycling rates. More details on these trials will be announced later this year.
Find out more about the case for reform of the Producer Responsibility system and the role of Deposit Return Systems.
Marcus Gover, Chief Executive of WRAP, said: "To have a brand as well-known and with the reach of Coca-Cola actively encouraging more people to recycle is a really positive step which we welcome. A commitment that half of all the plastic bottles they use will be recycled plastic, understanding that this will cost the business more, shows real leadership in the industry and provides the essential market for recovered materials. Initiatives like this are much needed if we are to change consumer behaviour and recover and recycle more – WRAP and Recycle Now are excited to be working with them on this. We need more big brands to help inspire people to do their part."
Jon Woods, General Manager of Coca-Cola Great Britain said: "Our packaging is valuable to us and we don't want to see any of it end up where it shouldn't. All of our bottles and cans have been 100 per cent recyclable for some time now, so in theory none should be littered. But we know that isn't happening and that's why we are going to do more.
We want to see all of our packaging recovered and recycled and our new strategy sets out how we will start work to achieve that. Doubling the amount of recycled material in all of our plastic bottles is a significant investment and sends a clear signal that we want to play a positive role in supporting the circular economy here in Great Britain. We hope that others in the food and drink industry will follow our lead and look to use recycled plastic in their packaging. In the strategy we have focused on the actions we can take as a business – such as our ability to communicate to consumers the importance of recycling – as well as the areas where we want to work in close collaboration with others to reduce litter and increase the recovery and recycling of plastic bottles. Our ambition – and our ability to go further in the future – requires reform of the packaging recovery system and we will work with others to bring about the changes that are required to ensure all our packaging is recovered and recycled."
Keep Britain Tidy's Chief Executive, Allison Ogden-Newton, added: "Coca-Cola's commitment is welcome news for those of us who are working to reduce litter and waste and increase recycling. Every day, around 16 million plastic bottles are littered or end up in landfill and to have a global brand like Coca-Cola leading the way in developing the new solutions and changes in behaviour required is a real step forward. We particularly welcome their ambition to recover and recycle all of their packaging and hope that this inspires others to step up and help bring about the changes required."
Coca-Cola will report on progress against the strategy every year and it will be working closely with external organisations and experts to review activity, impact, and refine its new strategy accordingly.