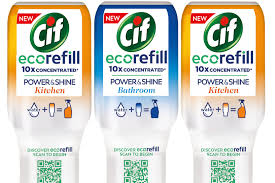 Vishu Dixit
Made with 75% less plastic, Cif ecorefill simply attaches to the current Cif Power & Shine bottles. Through its innovative technology, it seamlessly releases the super-concentrated product into the bottle, which is filled with water at home. The ecorefill contains a 10x concentrated formula, delivering the same superior clean for which Cif is known and loved.
The ecorefills are 100% recyclable once the plastic sleeves are removed and, by the end of 2020, the ambition is for all Cif ecorefills and spray bottles to be made from 100% recycled plastic. Going smaller is certainly better – the ecorefills are lightweight and save on storage space. Diluting the product at home means 97% less water is being transported, fewer trucks on the road and less greenhouse gas emissions.
The ecorefill's space-saving design also comes with a smaller price tag, retailing less than the price of Cif spray bottles. It is currently available at Sainsbury's across the UK.
Helen Bird, Strategic Engagement Manager at WRAP (which manages The UK Plastics Pact), said: "We know that people are looking to reduce their plastic footprint and the use of concentrates, like this novel design by Unilever, is a way to support people to do this. In addition to this, a major environmental benefit is the reduction in the amount of product that is transported around the UK. As a founding member of The UK Plastics Pact it is great to see continuous innovation by Unilever in their commitment to ensure all plastic packaging is reusable, recyclable or compostable by 2025."
Cif is committed to enabling people to use their Cif Power & Shine trigger spray bottles for life. If the trigger spray breaks, customers can call the Cif careline to receive a new trigger spray delivered free to their home.
Gemma Cleland, Vice President, Homecare, Unilever UK & Ireland, said: "The launch of Cif ecorefills is a game-changer when it comes to reducing plastic waste in the products we use to clean our homes. Our research shows that two-thirds of us feel guilty when we throw away plastic and shoppers are looking for easy switches that can have a positive impact on the world around us. We think there's no better place to start than in the home. By keeping a bottle of Cif and refilling and reusing it over and over again, consumers can reduce their consumption of single use plastic."
Earlier this year Unilever launched its #GetPlasticWise campaign, a holistic Five Point Plastics Plan to reduce plastic waste across the United Kingdom & Ireland. This innovation reflects the company's commitment to ensure that, globally, all of Unilever's plastic packaging is fully reusable, recyclable or compostable by 2025, and to using more recycled plastic content in its packaging. Unilever UK & Ireland wants to significantly accelerate this and Cif ecorefills will help towards achieving this aim, as well as making a further significant contribution towards the UK Plastics Pact targets.