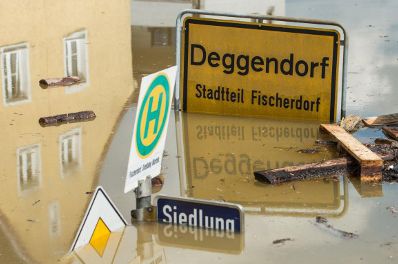 There is great need in the flooded areas, even months after the disaster. The cost of the damage to houses and furniture is often in the hundred-thousands – far more than a single family can bear alone. Help from the state has not arrived yet.
Whilst the severe flooding was happening, 24 LINHARDT employees were already helping out, mostly as members of the fire brigades. Their colleagues also wanted to help. Several donation campaigns raised 34,000 euros. Shareholders, employees and the company itself gave money for the victims. Many employees donated a day´s holiday, the money for which went into the donation fund.
Direct Aid
Around one hundred days after the flood, LINHARDT was able to hand over its donations. They went to people who had suffered heavy damage; a young family and an old married couple, for example. LINHARDT helped to buy a urgently needed oven or a new kitchen. LINHARDT also helped to lay a new water pipe as the house´s well was contaminated by oil. And LINHARDT helped members of the fire brigade whose own belongings were lost as they went into action for their fellow men and women. LINHARDT donated almost half of the amount to the Deggendorf Rotary Club relief organisation for it to be shared amongst other flood victims.
"People are at the centre of LINHARDT," said CEO Dr. Monika Kopra-Schäfer about the donations. She classifies the many-sided campaigns to provide aid for the flood victims as a sign that the group is aware of its social responsibilities: "At our company´s locations we are also partners for the region. It is our employees´ home."
This entry was posted in News on 10. April 2014 by Linhardt.
Post navigation← LINHARDT wins with SIEgERNew "lighthouse" plant in business region Siberia →
Terms and Conditions