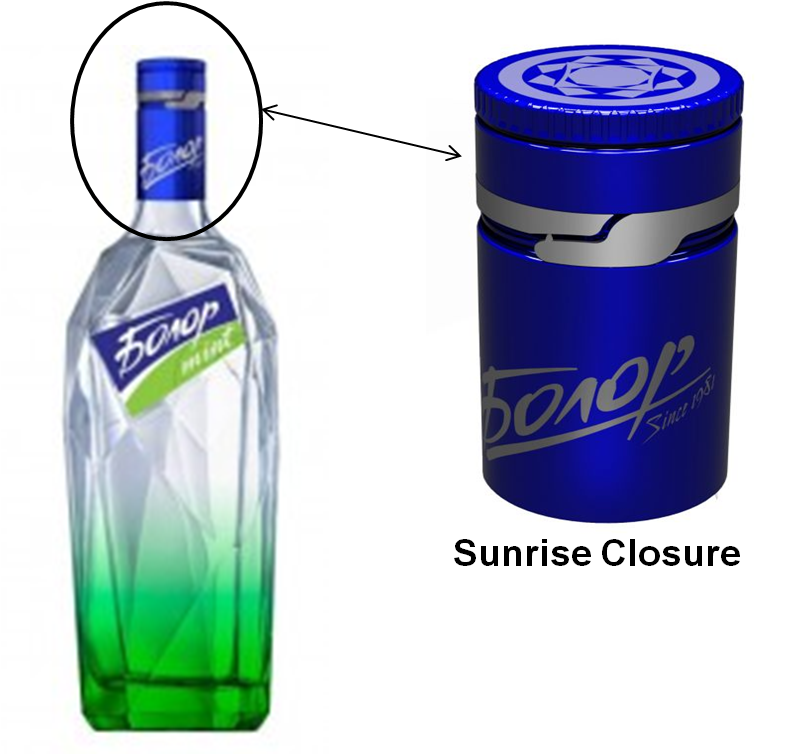 Guala comapny has developed an innovative Aluminium closure with visible tamper band to create double impact.
Company Name:
BEIJING GUALA CLOSURES CO. LTD
Guala Closures has created a new 'Snap on' closure called Sunrise, for spirits, which combines an aluminium shell and plastic non-refillable fitments, with a highly visible tear off, tamper evident band. The overall creative and technical design incorporates the band very effectively, making it an integral part of the visual impact on the supermarket shelf. This closure is designed by the R & D Group department and produced by Beijing Guala Closures was adopted first by APU COMPANY, a Mongolia's customer for some vodka, but it is already available now for the Asian market. This cap consists of technical and aesthetic features. As it regards the technique consists of the tamper evident system that allows the consumer, through a tear off band, to interact with the closure and at the same time to control the possible tampering of the bottle. Furthermore, to avoid refilling with other liquids, the closure Sunrise is equipped with an internal valve. The closure is characterized by a beautiful design due to the graphic on the top and on the side. The aluminum cap can actually be customized in different heights, colors and graphics in hot foil, screen printing, embossing / debossing The Sunrise aluminium closure can be customized with the standard printing processes, such as hot foil, silkscreen and offset, both on the top and side - while the band can also be branded with embossed logos. As the closure is composed of 5 different pieces the complexity of design makes it more difficult to be duplicated or imitated by counterfeiters. The closure not only features the clearly visible tamper evident band, ensuring the integrity of the product, also it combines this with easy opening and pouring, due to a transparent drop cutting pourer.
For more innovations visit: http://www.amazon.com/Packaging-Innovations-Sandeep-Kumar-Goyal/dp/8192792048