Post innovation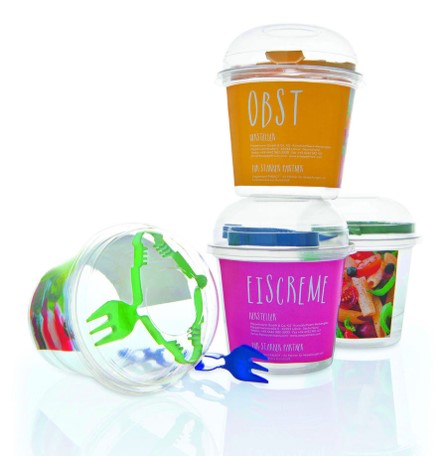 Foldable feature of the pack gives user convenience in handling the products during travel
Conventional disposable eating utensils provided in the plastic cup with takeaway meals often have very short handles, making them difficult to hold or causing resulting in involuntary contact between fingers and food
With its "spork," Pöppelmann has developed an eating utensil that fits in a standard 95-mm-diameter round lid, and, at 130 mm long, is still convenient to handle
This is possible by the foldable design of the plastic utensil.
When it is removed from the lid, the two spread halves of the handle are pressed together until they lock – the fork and spoon are now ready to use.
The utensil is characterized by high stability in all directions, and is also long enough to reach the bottom of the cup without messing your hands

The lid and utensil are pre-assembled at Pöppelmann Famac, so there are no additional overheads for filling .