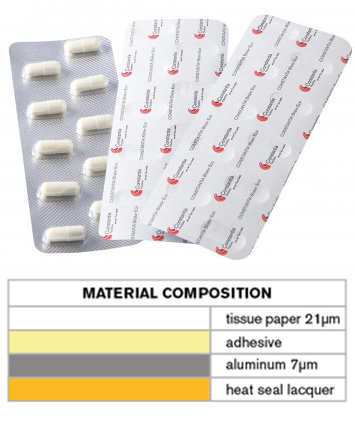 CONSTANTIA Blister Eco is an economic blister lidding foil for PVC-blister with lower barrier requirements.
Company Name:
Constantia Flexible (Parikh Packaging Pvt. Ltd.)
CONSTANTIA Blister Eco is a lidding foil devised by Constantia Flexibles, for pharmaceutical products that require a lower barrier. The foil works well for all products that do not require the protection of a standard lidding foil, such as chewing gum, nutraceuticals, vitamin products and cosmeceuticals. The lidding foil consists of tissue paper (21g/m²) laminated with a 7μm aluminium layer resulting in a material that is 23% lighter than a standard 20µm lidding foil. Due to the thinner aluminium layer the share of aluminium in the product is 40%, compared to standard foil, which has approximately 90% aluminium share. This means the customer gets a higher yield per kg. According to the company this is also a sustainable solution with renewable raw material paper and 5g/m heat seal lacquer, instead of 7g/m compared to a standard foil, using identical heat seal coating chemistry. According to the company, Another advantage is the still excellent barrier property compared to thermoformed PVC blister bottom film. The water vapour barrier of this lidding foil is five times better than an unformed PVC 200/PVdC 60-blisterfim – and higher still when the blister film is thermoformed. So, even with its lower barrier properties, this new lidding foil is suitable for all products packed in PVdC-coated base film.
For more such innovations visit: http://www.amazon.com/Pharmaceutical-Packaging-Innovations-Sandeep-Kumar/dp/938501000X