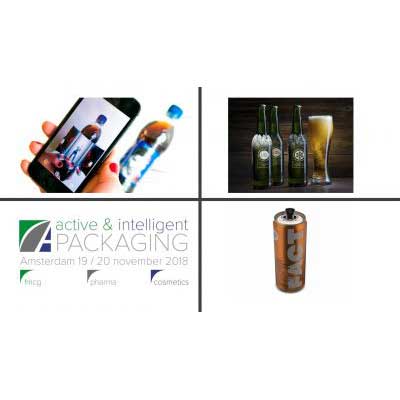 The AIPIA World Congress (19/20 November, Amsterdam) is the only place where the whole world of Active & Intelligent Packaging is on display. It's the event which shows you not only the latest trends in Active & Intelligent Packaging, but also how many can interconnect to produce stunning and cost effective solutions for both major Brand Owners and niche market products.
Trending heavily in 2018 has been Augmented Reality, Blockchain for packaging and the rapid development of Sensor Technology on packs.
Augmented Reality is already recognised as a key way to engage consumers and get them buzzing about your brand or product. In a recent poll over 62% of them saw shopping benefits from AR. But is there a good ROI from AR? Steve Curran of ROAR Augmented Reality will show how AR enabled packaging can offer value and utility to shoppers. Peelinteractive will show what Augmented Reality can do for packaging. Plus Zappar will, once again, blow delegates' minds with some of the latest creative AR offerings.
Blockchain is one of those concepts which everyone has heard about, but often find difficult to grasp in its entirety. At the AIPIA congress, for the first time, EVRYTHNG and Almond.io will show how a product, in this case, FACT, a new organic flavoured-water, has been enhanced with blockchain-based provenance, supply chain traceability and consumer digital rewards.
Sensors is shorthand for all the clever tags and chips which can be embedded into modern packs to supply a whole range of benefits. When you think of tags you think of something a bit chunky? Well think again. Delegates can learn about EPIC's dust sized AI chip which is a smart sensor smaller than a grain of salt which can be embedded into everyday objects. In addition delegates can come and learn about scaleable tag production and application from one of the industry's leading suppliers, Avery Dennison, plus the opportunity to visit the company's I.Lab, a state-of-the-art RFID experience center in Oegstgeest, that showcases its capabilities in RFID / NFC – both active and passive.
Or come and learn about a new economical and ecological RFID developed by Stora Enso Intelligent Packaging. Not only is it ground breaking technology it goes to prove Active & Intelligent Packaging developers are taking sustainability seriously and aim to be 100% environmentally responsible.
The whole world of Active & Intelligent Packaging comes together at the AIPIA Congress. It is the highlight of the calendar for those who want to learn about the big picture of Active & Intelligent Packaging and how it is adding a whole new dimension to the packaging industry landscape. It's the best two days of Brain Training anyone involved in new packaging developments can get!