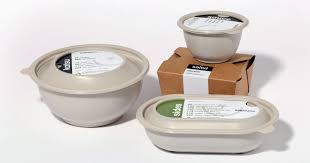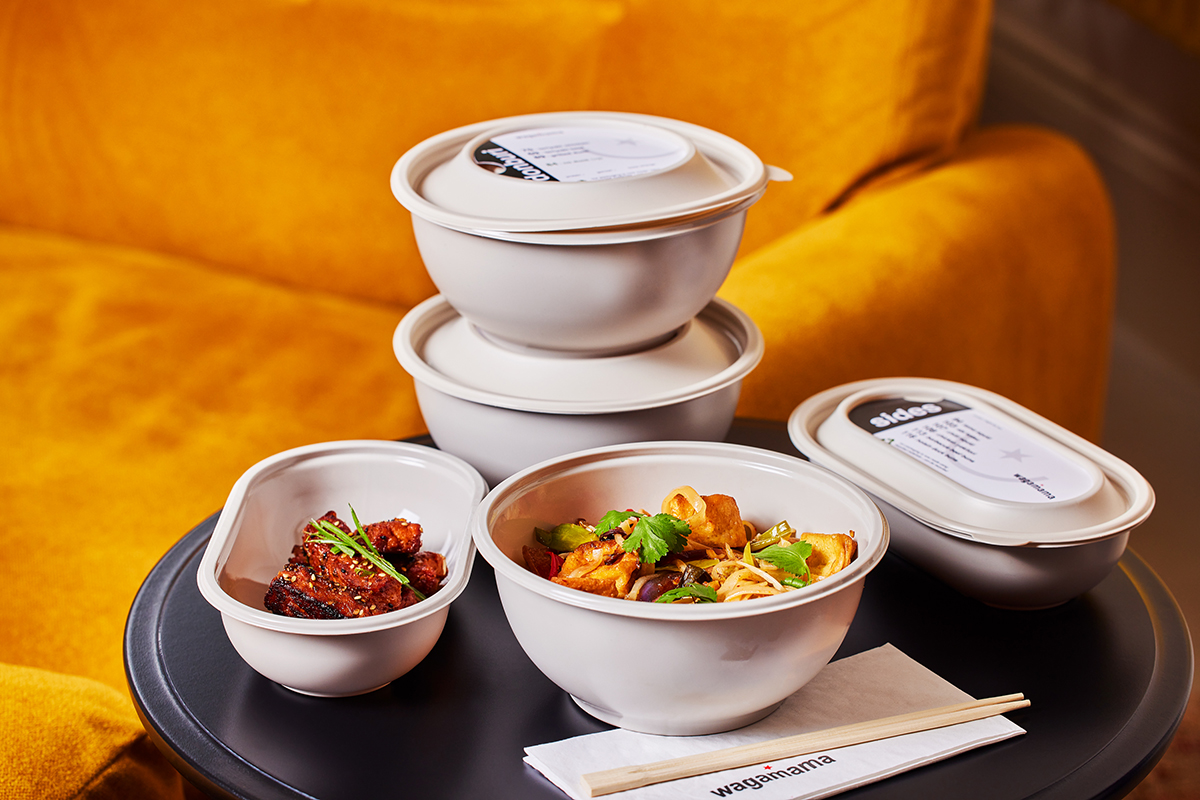 Aditya Panwar
Wagamama has launched new packaging, which seeks to reduce the company's use of virgin plastic by 330 tonnes each year.
Moramma was approached by Wagamama in 2021 and tasked with redesigning the whole takeaway packaging range. The studio drew inspiration from "circular design strategies" and used knowledge from material, recycling and packaging experts to find "the best possible sustainable solution" for storing hot food, according to Morrama's creative director Jo Barnard.
The new packaging is made from 70%+ recycled PET, with "additional virgin plastic required for structural reasons", says Barnard. PET is an abbreviation for polyethylene terephthalate, which is a type of polyester.
Having been "adapted to withstand higher temperature", the material used in Wagamama's new packaging is called cPET, Barnard adds. The c stands for "crystalised", which means the packaging is made from crystalline polymers that have a well-organised molecular structure.
Barnard explains that this material is "already used by brands like M&S for microwave meal trays, but it's never been used for takeout hot food before". She adds that Morrama took the time to "ensure the integrity of the bowl when it contains hot food", as well as testing the water-tight seal between the bowl and lid.
The natural colour palette and "simple minimal aesthetic" of the packaging is also meant to aid the recycling process. "Lighter colours are more desirable in recycling because they can be re-coloured," says Barnard.
Morrama also decided to "move away from the dark grey" of the old packaging with the new organic hues, according to Barnard. She explains the studios belief in "stripping out anything unnecessary", which was applied to this project to help "achieve a timeless design and remove excess plastic".
Though she believes that "reducing carbon emissions linked to packaging" will help reduce the environmental effects of takeaway food, Barnard addresses that there are other factors companies should consider. She mentions "the food itself and how it's transported around the city" and how the most sustainable option would be for "consumers to go – by foot, by bike, or by public transport – to the restaurant and eat in".
She adds, "Despite 100% sustainable takeout packaging being an almost impossible goal, it doesn't mean brands shouldn't follow Wagamama's example and take steps towards it."
The new packaging will roll out from this month and be used across all restaurants and delivery kitchens by October, once old stocks are used up.