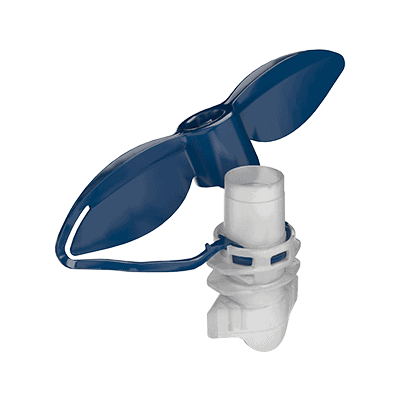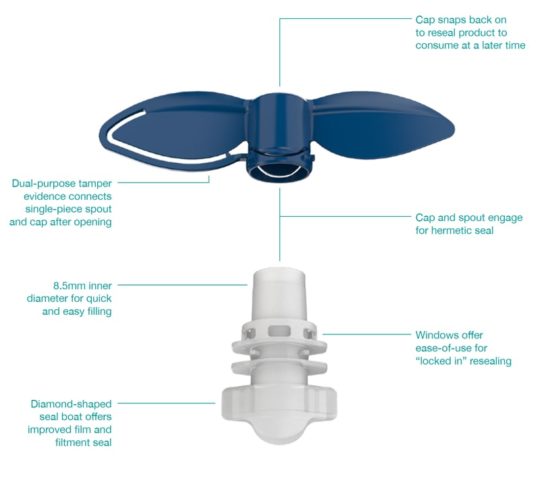 Our new line of tethered caps represents a nexus of sustainable design. The tethered caps are single-piece fitments designed to ensure that there are no loose pieces and engineered to cut down on raw materials. They are compliant with EU legislation, child-safe, provide an improved ergonomic experience, and are up to 50% lighter than traditional pouch fitments.
A New Chapter in Fitment Design
Scholle IPN has always been a global leader in fitment design. Tethered caps are the latest addition to our portfolio of innovative flexible packaging solutions.
"The Scholle IPN LinkCap™ family is a new development category that relates to the global sustainability drive and is a direct response to customer demands for tethered cap solutions," says Tony Bloedt, head of global fitment development for Scholle IPN. "We took this a step further by creating innovative designs that enable reduction of source material in combination with adding tethered features that reduce ocean waste."
Caps get lost easily. Losing the top of a bottle not only means that the top won't get recycled, but could render what's inside the package unusable or dangerous. Our team of engineers, scientists, and designers wanted to come up with a solution that addressed sustainability on multiple fronts, and came up with three revolutionary designs meant to pair well with any flexible package solution:
Snap-On
Our patented snap-on cap design is easy to use for all ages. These caps consume less energy during manufacturing, assembly, and sealing than traditional caps. "The snap-on cap design simplifies manufacturability of tethered cap solutions," Bloedt says, "while at the same time improves consumer experience through easy-off cap opening." Snap-On caps are ideal for single-use pouches intended for direct consumption, like fruit purees for kids.
Flip-Top
The flip-top cap is ideal for one-handed use. Compatible with our HFFS filling machines, the flip-top is a single-piece tether and spout with an integrated tamper evident seal. Flip-top caps are great for products like water, motor oil, and condiments, where consumers can see that the tether has not been tampered with while still being able to easily open and close the top.
Screw-On
Our screw-on caps are lightweight and offer a reduction in source materials to produce. The tethered hinge means that the cap won't interrupt the flow of product, which is critical for products like motor oil and dish soap.
Going Above and Beyond
We began working on tethered caps as a response to new EU regulations mandating that all caps be attached to plastic bottles by 2024. This mandate aligned with Scholle IPN's dedication to sustainability, but we didn't want to add a tether to existing fitments and call it a day.
"Just adding a tether feature to existing caps would comply with that goal, but would require adding plastic," says Bloedt. "Scholle IPN targeted to create tethered caps that would reduce the total amount of plastic used."
We answered the EU mandate by designing tethered caps that addressed sustainability concerns in a number of ways:
First, we made sure that the tethered caps were strong to prevent the caps from getting lost and ending up in ecosystems like oceans.
Second, we tested their reliability to make sure they wouldn't come off during regular use.
Third, we considered existing technologies and applications. We identified ways to reduce source materials while remaining compatible with current formats
To achieve these goals, our team had to think outside the box. "The introduction of tethered caps in combination with snap-on features added to the complexity of the component manufacturing assets," Bloedt points out. "To overcome these complexities, new materials and manufacturing technologies like conformed cooling had to be applied to achieve the desired results."
Creative Design and New Technologies
Our dedication to sustainability means we never take the easy way out. The process of developing new tethered caps that were both EU-compliant and reduced our carbon footprint meant months of ideation and testing. "The Scholle IPN fitment engineering team collaborated with customers to create multiple initial designs," Bloedt shares of the creative process. "Through internal and third party consumer tests, the most favorable designs were identified and used as the basis for the development of the commercial products that will be available in the LinkCap Product Family."
Through testing came new ideas and unexpected benefits, and our team identified groundbreaking ways we could reduce our energy output. "Lightweighting the fitments through the snap-on feature not only resulted in tremendous source material savings but also brought a real measurable reduction in energy consumption in the manufacturing process from lower cycle times and reduced cooling energy," Bloedt says as he reflects on surprises he and his team stumbled upon through the design process. By committing to designing a truly sustainable tethered cap, our team was able to come up with new and exciting processes to reduce waste and find solutions that were not immediately evident.
Tethered caps are a triumph of sustainable design. There's far more to their construction than meets the eye, and we're happy to share more if you're interested in incorporating tethered caps into your pouch manufacturing line.