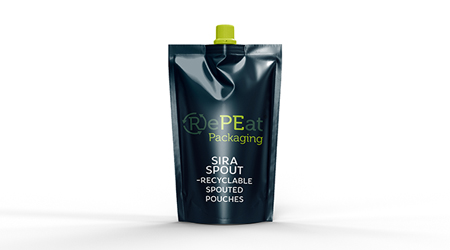 The RePEat range – which includes stand-up pouches and films – is all made from pure PE, which means it can be recycled in the LDPE recycling stream.
Peter Ralten, chief commercial officer, said: "Our RePEat range has proven to be very popular. Spouted pouches are widely used, and so offering a fully recyclable version has been an important development for us.
"We can supply a range of different sizes and different spout types, and the pouches can be either filled through the spout or top-filled – with the spouts placed in either the corners or the centre of the pouch.
"As the pouches are a mono-material – including the spout itself – they are suitable for recycling in the LDPE recycling stream. At the moment that means a trip to a recycling point, but hopefully kerbside recycling on a national basis will happen in the not-too-distant future…"
The RePEat spouted pouches can take advantage of our eco-friendly printing capabilities. We use only water-based inks and adhesives.
"We've worked hard in recent years on paper-based barrier films and recyclable plastics as alternative packaging solutions, but the inks themselves, the adhesives and the production process are often overlooked," added Peter. "However, at Sirane we want to be as friendly to the environment as we can possibly be at all points in the process."
Not only does our site offer more eco-friendly printing options, but our recently developed Amethyst printing technology offers high-definition printing on substrates such as RePEat without the need for plate costs.
Spouted pouches are suitable for a range of products, including baby-foods, automotive products, health & beauty products and more.
A protective layer can be added, making the pouches suitable for 'aggressive' products.
Other products in our RePEat range – as well as the spouted pouches – include a number of different flow-wrap films and stand-up pouches – with a range of barrier options available – as well as our vacuum pouches.