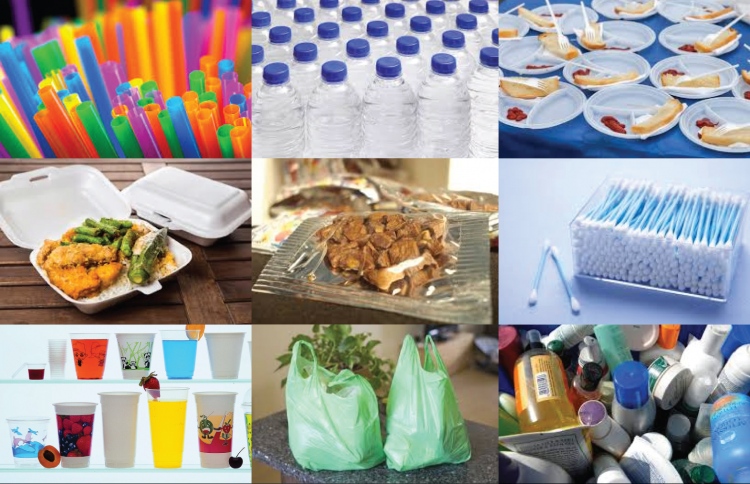 According to the circular (8/2020), the ban comes into effect on June 1, 2021, and will apply to all products classified under the following 12 categories:
1. Plastic drinking straw
2. Single-use plastic-based plates, cutleries and stirrers
3. Styrofoam lunch box
4. Plastic shopping bags below 30x30 cm (including oxo-degradable and synthetic polymer-based biodegradable plastics)
5. Plastic shopping bags below 50=micron thickness (including oxo-degradable and synthetic polymer-based biodegradable plastics)
6. Imported sweet areca nuts in plastic wrapping
7. Single-use plastic cups below 250 ml
8. Cotton buds with plastic stems
9. Shampoo and soap bottles in plastic packaging, that are 50ml and below
10. Shampoo and soap bottles in plastic packaging from 50ml to 200 ml
11. All imported beverages in PET bottles below 500 ml (water, carbonated and non-carbonated drinks)
12. All imported water that is 01 litre and below packed in PET packaging
A tweet, publicised by the Ministry of Environment, reiterated the message touted the previous by the President's Office, stating that its move to halt such imports marked the first stage of realizing the administration's pledge to "completely phaseout single-use plastics by the year 2023".
Although on numerous occasions past and present leadership factions have officially acknowledged plastic pollution as an urgent concern for the low-lying island nation and placed the recent restrictions on trade, the country is yet to place stringent measures to curb the country-wide use of single-use-plastics for necessary inter-island facilities such as waste collection, and following the COVID19 pandemic, for use as personal protection.
For instance, Maldives' Waste Management Corporation Ltd (WAMCO) presently only accepts trash collections when it is secured in plastic bags. Thus far, no plans to change existing guidelines to accommodate the new legislative amendments, have been made public.
President Solih initially announced the government's intention to phase out single-use plastics from the island nation during his maiden trip to the United Nations General Assembly in 2019.
The pledge was reiterated in the government's 2019-2023 Strategic Action Plan (SAP), which provides a framework for the state to implement measures in reaching the goals set by the incumbent administration. Single-use plastics or disposable plastics are items ntended for one-time purposes only, regardless of whether they are recyclable, labelled as bioplastics, biodegradable or compostable.
Then, on November 5, President Solih approved a proposed plan by the Ministry of Environment and endorsed by the President's cabinet to phase out single-use plastics in Maldives by the year 2023.
In addition to single-plastic restrictions that have been initiated in various Maldives' islands and atolls, one of the country's first major moves against plastic came in July 2019, when the parliament passed a resolution to ban single-use plastics in Maldives from 2025 after students from 17 schools collectively submitted a proposal highlighting the dangers of single-use plastic.
Notwithstanding a near-unanimous positive reaction to the ban, numerous environmentalists have also taken to media platforms expressing that the effectiveness of any plastic ban hinges on ensuring that the need for its day to day use is addressed as well and that the populace is adequately informed and educated.
Referring to effective policies to address plastic waste Managing Director of UK-based NGO Common Seas Jo Royle said," The Maldives should be commended for planning bold and radical action to rid the country of plastic garbage, which is spoiling the nation's world-famous pristine environment."
"If the country approaches the issue wisely, it will be able to significantly reduce the amount of plastic waste entering the natural environment."
This year, the plastic problem seems to have grown worldwide, with organisations such as the European Environment Agency reporting surges in single-use plastic following COVID lockdowns.
Speaking at the virtual event co-hosted by Maldives with Norway, and Antigua and Barbuda to launch the 'Group of Friends to Combat Marine Plastic Pollution', Minister of Foreign Affairs Abdulla Shahid described the COVID-19 pandemic as a "wake-up call for humanity to build back better, in a more sustainable manner", and called for a global response that would lead to an effective international framework to fight marine plastic pollution in the near future.