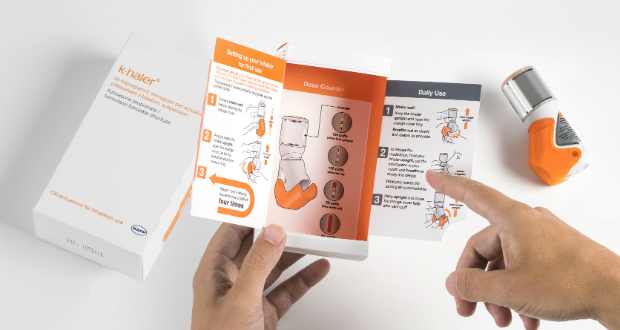 An innovative inhaler packaging that aims at helping patients to overcome day-to-day challenges faced during inhaler usage
News:
The k-haler® device triumphed in the Packaging Design discipline of the Medicine / Pharmaceutics category and was recognised for itsinnovative patient information packaging and online training tools by the 63-panel jury.
The k-haler device and packaging were designed with the whole patient and clinician experience in mind, aimed at helping to address some of the day-to-day challenges faced by patients using an inhaler and improve correct device usage. Collaborating with patients and healthcare professionals, the innovative packaging was developed to encourage users to pause as information about how to use the k-haler device is revealed in a specific and controlled order. The 'book-like' carton with patient information clearly differentiates the inhaler set-up guide from the daily use instructions and will signpost patients to online training tools (which include a compelling gamified training sequence).