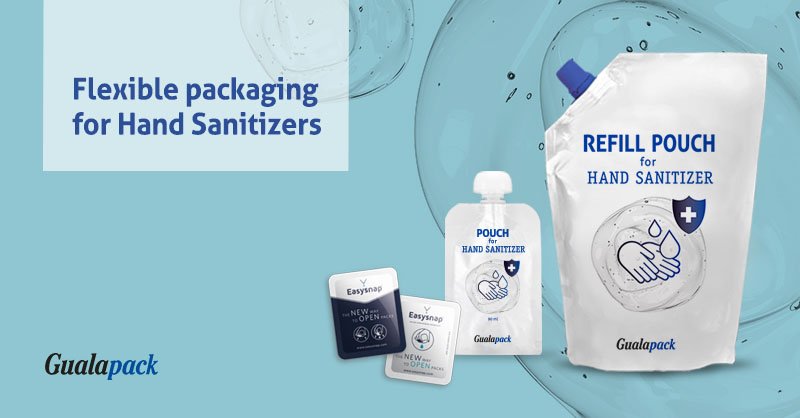 Press Packagingconnections
Today all of us carry a compact hand gel in our handbag or backpack and we use the dispenser bottles available at the entrance of every office, shop or café.
This new habit has driven a sudden and massive increase in the global demand for these products. Consequently, also the production of hand sanitizer packaging has become a new priority in the market.
Gualapack, as a leader in the flexible packaging industry offers three different solutions for hand sanitizing products
1. 90 ML POUCH
Perfect for the "on-the-go" usage, it's a pouch that can easily find its place in every bag, backpack or desk! Compared to traditional rigid packaging, the pouch is more compact and lightweight, and a strategic no-spill valve can be added to optimize and control the sanitizer flow if needed.
For the most environmentally conscious customer, Gualapack also offers this solution in its most innovative, fully recyclable monomaterial, as part of our Pouch5 range.
2. REFILL POUCH
If the 90ml pouch is ideal on-the-go, big bottle dispensers are the most common solution for home, schools and offices, shops, bar and restaurants, wherever large quantities of hand sanitizer are required.
Gualapack suggests using large format refill pouches for refilling hand sanitizer into dispensers, as they are more lightweight and convenient for storage. Refill pouches are much more sustainable compared to rigid containers, as less plastic is used.
3. EASYSNAP
Easysnap is an innovative solution, perfect for the on-the-go and ideally designed to offer clients a more sophisticated alternative.
Easysnap is single-use and very compact, so it can be kept in any pocket, always ready to use.
Furthermore, consumption requires one hand only, as the opening itself is carried out by folding it in half,.
Worldwide patented, it's a fun and easy to use packaging, ideal for a various range of liquid and semi-liquid products, hand sanitizers included, thanks to its unique single-use and optimal hygiene features.
All of our pouch and packaging portfolio can be customized to contain any type of gel, guaranteeing the highest standards of hygiene and safety.
At Gualapack, we are ready to respond to the huge increase in the global demand for specific hand sanitizer packaging, due to the pandemic. Moreover, we foresee that the habit of sanitizing hands will remain even after the emergency, due to the awareness of the importance of fighting viruses and bacteria in our everyday life. Indoors and outdoors, something has changed and our new habits are here to stay, so let's be prepared.