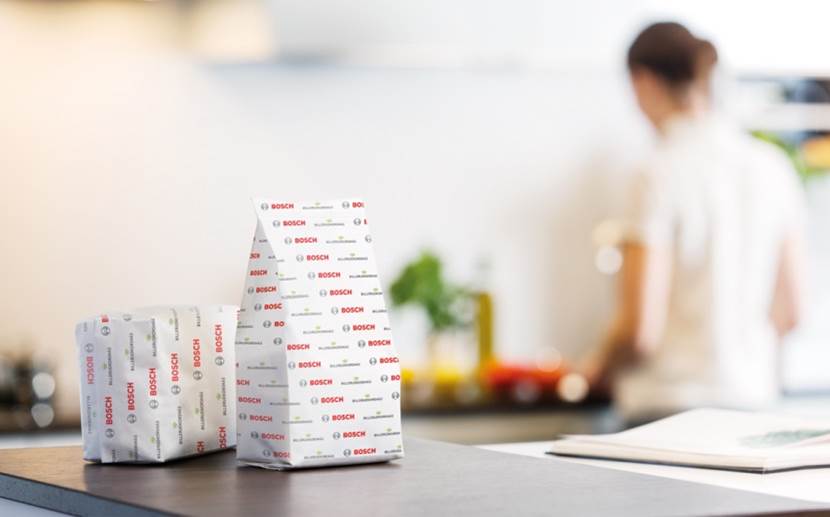 Paper packaging replacing plastic
News:
Bosch Packaging Technology and Swedish paper specialist BillerudKorsnäs are now launching the world's first Sealed Paper Packaging. This is intended to enable brand owners to reduce their environmental footprints and enhance customer experiences by choosing paper packaging over plastic. This revolutionary solution is perfect for dry foods and keeps both shelves and the environment clean.
This packaging is renewable, recyclable, biodegradable, dust-tight and insect-proof. This keeps food particles in and contamination out during transport and while on the shelf, thereby resulting in a cleaner environment and less food waste. The success of the product is based on the quality of the paper in combination with the technology to reliably seal the packaging.
It is perfect for a broad range of products, such as pasta, oats, flour, rice, muesli and sugar etc. A recent LCA study confirmed that the Axello ZAP bag results in a 65% lower carbon footprint than a corresponding plastic bag (source: Life Cycle Assessment, Report U5052, IVL, 2015).
BillerudKorsnäs contributed to the optimisation of the mechanical properties of the paper, while Bosch Packaging Technology brought its expertise as a provider of packaging technology.
The paper packaging is produced on the first vertical form, fill and seal machine (VFFS) to feature the so-called ZAP-Module, which facilitates coating with the sealing agent on a minimal surface area, preserving the paper's mono-material character.