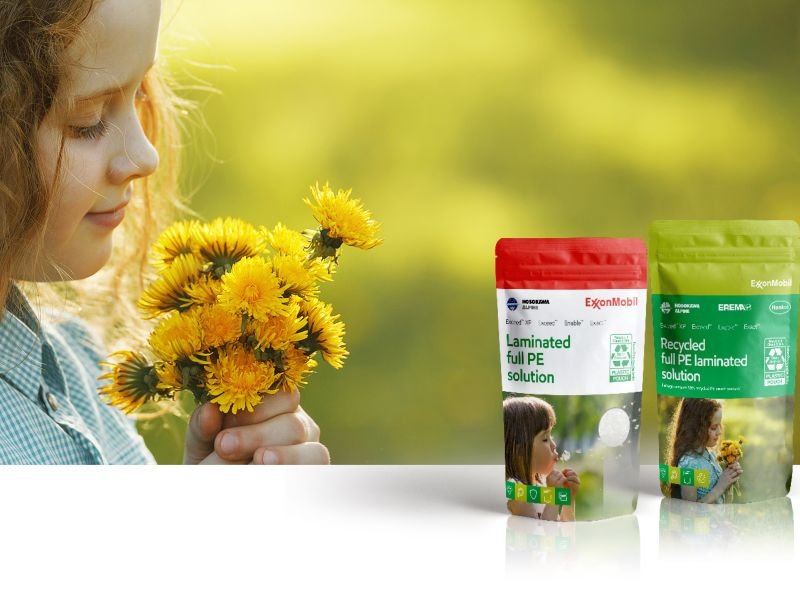 BRUSSELS – Stand-up pouches (SUPs) can now be made using recycled material from full polyethylene (PE) laminated SUPs and virgin performance PE polymers thanks to a collaboration between ExxonMobil, Hosokawa Alpine AG, EREMA Engineering Recycling Maschinen und Anlagen GmbH, and Henkel AG & Co KGaA Company. The new SUP packages combine 30 percent recycled SUP PE with 70 percent virgin ExxonMobil performance PE polymers and are well-suited for non-food applications, such as detergents.
"Flexible packaging is structurally a highly complex product requiring different material layers to enable it to meet a wide range of property requirements. This complex mix of materials poses the main challenge for recycling flexible packaging today," says Marcin Lapaj, Global Business Development Manager for Circular Economy at Henkel. "That is why there is a need to go beyond the current functionalities and create a flexible packaging that also has recyclability 'built in.' There is a growing demand for packaging that focuses on being recyclable and uses recycled materials. This approach ensures valuable resources are kept in the loop longer and less waste is being generated. Combining efforts along the value chain is helping the industry move one step closer to enabling the desired circularity of flexible packaging for a more sustainable future."
"ExxonMobil introduced full PE laminated SUP packaging solutions as a replacement for conventional multi-material structures which can be difficult to recycle. These full PE SUPs can be easily recycled where programs and facilities to collect and recycle plastic films exist," said David Hergenrether, ExxonMobil Chemical vice president, polyethylene. "This recycled PE is now being used in combination with our performance PE polymers to manufacture new SUPs, helping customers create sustainable solutions."
Exceed™ XP, Exceed™ and Enable™ performance PE polymers, and Exact™ plastomer products are ideal for SUP packaging films as they deliver excellent stiffness, toughness, sealing and optical properties. Exceed XP provides outstanding toughness properties like puncture energy and exceptional MD tensile strength for excellent bag-drop performance, which is essential for package integrity. Exact offers low sealing initiation temperatures. Enable delivers similar haze to BOPP/BOPA, balanced stiffness-optical performance and outstanding optical properties at a lower machine direction orientation (MDO) ratio versus high density PE which can allow easy MDO processing for industrial converters. The full PE SUP films based on ExxonMobil polymers deliver comparable performance to multi-polymer structures which contain BOPP, BOPET, or BOPA, making them well-suited for food applications.
Fabricating these full PE SUP films on Hosokawa Alpine film MDO lines with TRIO technology delivers greater value. High orientation allows the film properties to be optimized to meet specific SUP requirements for optical (gloss and haze) and stiffness properties. These films containing performance PE need to be stretched less than five times, compared to six times when using other leading polymers, which improves the MDO processability.
"By stretching the films on MDO lines with TRIO technology we can influence the mechanical and optical properties to meet the needs of the application," said Dr. Holger Niemeier, executive vice president, Hosokawa Alpine.
Loctite® Liofol solvent-free adhesives from Henkel's newly introduced RE product range are "designed for recycling". These adhesives contribute to the success of full PE SUP films by offering a set of features allowing homogenous laminates to be recycled mechanically with excellent results. This is achieved at efficient machine speed with optimal ink compatibility for high-quality printing, high initial tack and room temperature curing.
Once the SUP has been used, EREMA's INTAREMA® TVEplus® technology combines filtration, homogenization and degassing in a single, effective working step to deliver recycled PE material with a new level of quality that can be used in new laminated SUP packaging for non-food applications. Exceed XP performance PE allows the properties of the film to be retained when recycled content is added to the formulation.
For further details please visit the ExxonMobil pavilion (FG10.1) at K2019 or Exxonmobilchemical.com/SUP