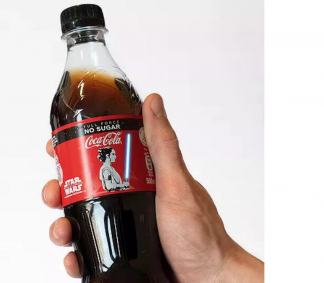 Vishu Dixit
There are two bottle designs, featuring main characters Rey and Kylo Ren, with lightsabers that light up anytime you touch the labels. The effect is made possible by Inuru Smart Surface Technology using sustainable OLEDs that can be printed at high volume and low cost.
The lightsaber lights up once the bottle is touched. The turn-off mechanism thereby is made to resemble the natural touch and usage of bottle.
According to Inuru, the printed battery can sustain a minimum of 500 uses. The technology exists within the special label, according to Inuru, which says that consumers won't be able to tell the difference between an ordinary bottle label and this special glowing version. The company stresses that it used sustainable technology, including electronics on paper, to create the special effect label.
The promotion is only being run on 8,000 bottles as part of a "Galactic Hunt" promotion Coca-Cola ran between December 6-22nd in Singapore.