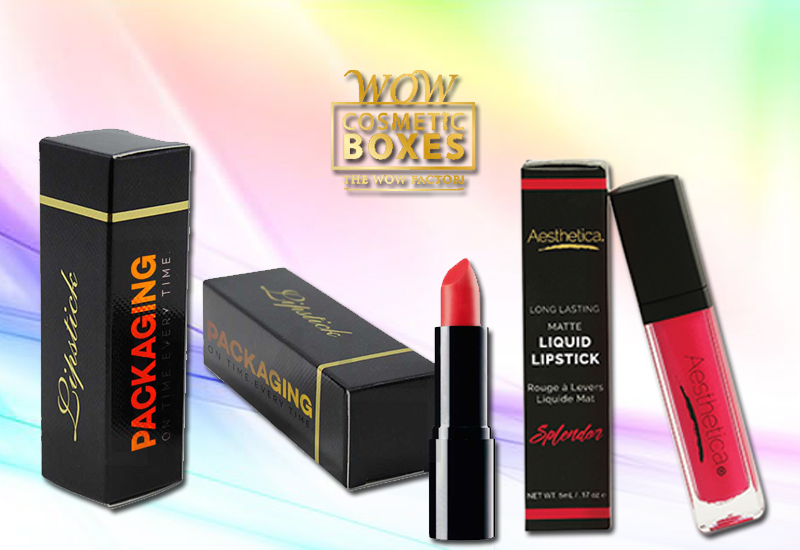 Do you want to add distinction to your fashion brand than the competitors?  Then, choose adroitly designed lipstick packaging boxes to add charm to your products and depict the real personality of the brand.  However, many beauty conscious ladies love to keep their lipsticks in their handbags, but they usually admired to get this fashion color with attractive and colorful packaging. That is why it is crucial to get unique and most influential packaging designing formats that will not only attract the customers but also help to increase sales.  For that reason, the brands and designers combine their efforts, skills, and experience to come up with innovative and customized packaging design for the fashion items.  In this article, we discuss how can marketers and influencers design this packaging gracefully by using such tips and tricks.
What is the basic purpose of graceful packaging design?
By improving the packaging designing techniques, fashion brands can lead in their niche and add innovation in their branding or marketing.  We know that lipstick is the most admired product among the ladies that enhance their beauty and charisma.  That is why, the packaging is also considered an important factor that directly affects the brand marketing, sales, display and shipping purposes.  For this reason, fashion brands need to grab customers' attention while customers cross the fashion aisle. Hence, the good packaging design will help to snatch customers' attention within seconds and make the brands able to get recognized on the retail shelf.  Let's discuss how can you design perfect and extraordinary custom lipstick packaging for a successful business.
What do you need to consider the packaging designs?
We all know that the cosmetic industry can get a loyal fan base, but all the customers' loyalty based on attractive packaging design.  If you are going to launch a new lipstick brand, then you need to understand some main or focused questions which are:
Does this packaging grab customers' attention?
Would it compete with the competitors on the retail shelf?
Is it giving a proper and perfect depiction of the product?
Does the packaging accessible or functional?
At the end, how this packaging can stay longer in the market?
If you get the answers to these questions, then you can start designing these boxes by concentrating on the branding or success options in your business. With this, you can also get the help of professional designers and companies who can create better packaging design for boosting the brand's image.
Think a little about different material choices
No doubt, the packaging materials matter a lot while designing packaging for lipstick products as it brings the foremost advantage of keeping the products safe. Therefore, the fashion brand's owner needs to focus on one core element of packaging material in the packaging design and ensure to keep customers aware of your brand's message.   There are so many options and choices out there in the packaging materials to enliven the packaging design.  But keep the special materials like cardboard, Kraft and corrugated in your mind and upgrade your packaging according to your budget.  By using such materials in these boxes, the brands get ensured to offer strength and durability of their fashion products for the products' delivery, display and storage purposes. In this manner, the fashion items remain protected & safe and consumers will get their products in a safe and sustained manner. So you can't neglect the significance of superior quality materials while designing these boxes.
Reusability factor matters a lot
In the cosmetic industry, every brand faces huge competition and there is a war to stay ahead among the rivals. By keeping this fact in mind, the packaging manufacturers and designers are providing dire significance of using recyclable and eco-friendly materials that enhance business productivity.  In short, the recyclable and green packaging will help to keep the environment clean and safe as well as helps to win customers' admiration for a long time.  So don't forget to add a green slogan on these boxes and save the resources on this planet.
Consider the color choices
Want to learn how to create perfect branding or brand recognition through these boxes? For this, you can add the branding element by hunting different color choices and printing techniques in the packaging. Like with color selections, the lipstick brands have to choose something brand-oriented and unique which stands the products recognized among the competitors.  In the uber-competitive world of cosmetics, fashion brands need to choose the perfect colors that match your brand's personality. In this manner, the brands may able to enhance their popularity and marketing through these boxes.
Design the packaging by product's style
The packaging should be friendly to modify into any shape, size, and design which can add more appeal to the products as well. It is quite logical that when people observe the products in plain and simple kind of packaging, they can't relate to the brand. Even their interest is not aroused at all.  Therefore, it is vital to present the lipstick products in unique shapes, styles, and designs that will instantly divert the attention of the target audience.
Pay heed to the brand's marketing
The product or brand's marketing should be your ultimate goal while designing lipstick packaging boxes for good sales and revenue.  We know that these encasements are considered an ideal source of promotion and branding of the fashion items because the packaging will help the customers to make a purchase decision.  However, introduce the perfect product with perfect marketing, you can add the logo, slogans, tag-lines and company name on these boxes. These marketing details and contents are very vital to make branding and promotion in this competitive landscape.  So don't forget to design these boxes with a perfect marketing strategy and increase the customer base in your business.