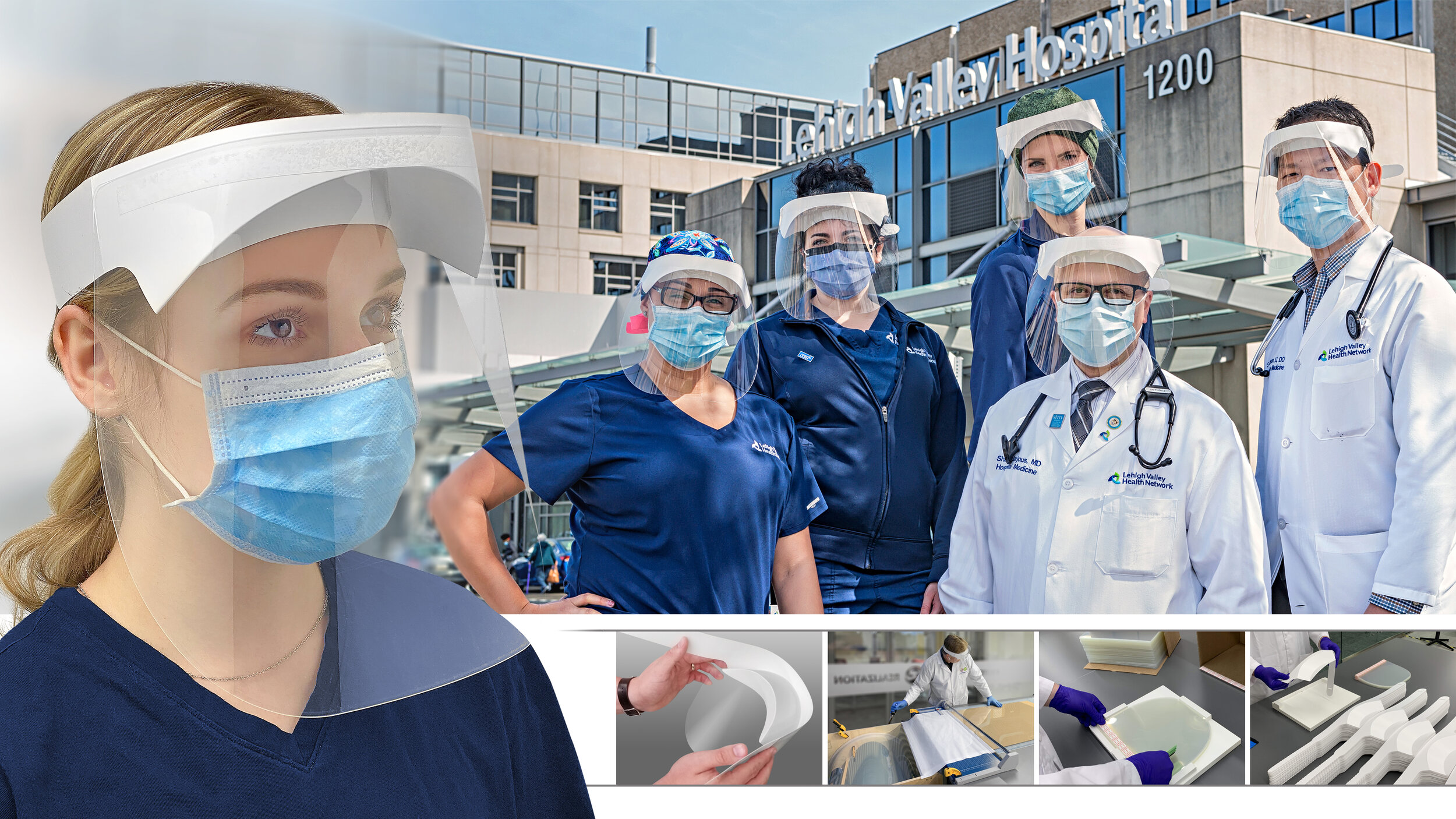 As part of PepsiCo's ongoing efforts to provide relief to people and communities impacted by COVID-19, PepsiCo partnered with Product Ventures' Prototyping and Realization Lab in Plano, Texas to provide face shields to healthcare workers. As local communities were reporting a shortage of personal protective equipment (PPE) to use in their fight against COVID-19, PepsiCo and the Product Ventures team were able to leverage their long-term relationship to quickly assemble the right people, resources, materials and equipment to address this issue. Volunteers from both companies convened at PepsiCo's Plano lab facility, a sanitary, food-safe environment, to fabricate, package, and ship these face shields to local hospitals including the Lehigh Valley Hospital in Allentown, Pennsylvania, which is on the frontlines of responding to the pandemic.
"We're so grateful for our ongoing relationship with PepsiCo and are proud of the partnership demonstrated in response to this challenge," said Peter Clarke, CEO and founder of Product Ventures. "Our designers regularly face condensed timelines and deliver quick and clever solutions to difficult problems, so we were uniquely positioned to react to this crisis and provide help.
" The team developed over 20 iterations of the design. Scalability was a driving factor in their design approach to ensure demand could be easily met. The co-lab's design can be manufactured in high quantities using different gauges of PET in case of potential shortages. This adaptable approach maintains the scalability without compromising the protection of the face shield.
The packaging design was given careful consideration early in the process to enable quick and easy distribution. One 12 in. x 14 in. x 6 in. box contains 120 flat face shields, more than four times the quantity in a box of standard face shields. This one box can be carried by a single person, allowing for easy and efficient access, distribution, and storage.
This is just a small part of PepsiCo's broader relief efforts, which include a commitment of more than $50 million focused on serving nutritious meals to people impacted by COVID-19 and providing vital support for healthcare workers, as well as testing and screening services.
Face shields are being offered to medical professionals in Connecticut, Illinois, New Jersey, New York, Pennsylvania, and other states as needed. They are currently being manufactured in PepsiCo's Plano, Texas and Barrington, Illinois locations. Between the two facilities, more than 2,000 face shields have already been produced and the team has the capability to quickly manufacture more if needed.