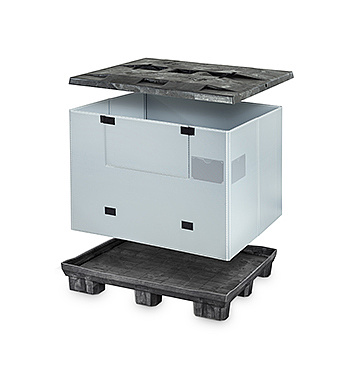 Vishu Dixit
The lightweight Eco P3 plastic pallet was specially developed for the chemical industry and tailored to its logistical challenges: utmost protection of sensitive loads and the smooth flow of goods. The Eco P3 is a consistent further development of the standard CP7 wooden pallet for the chemical industry – with all the advantages of a plastic pallet. It is light, stable, and can handle even heavy loads.
To meet the various requirements of automotive logistics, Cabka also developed pallets and load carriers specially tailored to the industry's needs. Thanks to its collapsible rings, the CabCube 2.0 large load carrier (LLC) can be easily and quickly folded up and stacked, including the underside and lid. As a result, the CabCube 2.0 achieves a volume-reduction of up to 80 percent. This saves storage and transport costs for users. The CabCube 2.0 is injection molded, robust, dimensionally accurate, and durable.
Also interesting for the automotive industry are the ESD pallets Endur E5 and Eco E5.1. The special mixture of materials protects sensitive loads from damage caused by electrostatic discharge. Endur pallets are also feature a 20 mm high anti-slip edge, which safely keeps small load carriers (SLC containers) in place on the pallet during transport.