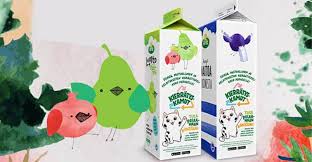 A survey for Arla and UPM conducted in February sought to find out what Finnish families think about the circular economy and recycling of food packaging. Four respondents out of five believe that small changes in daily routines, such as recycling food packaging, are significant in combating climate change.
The survey indicates that almost every third Finnish family is recycling more due to their children's interest in recycling. Although children play an important role, there is still room for improvement. Families would like to receive information on recycling from companies, and 92% of respondents think that companies should guide and encourage consumers in the recycling of their product packaging.
Together, Arla and UPM are striving to establish a circular economy and provide better recycling skills for families. The companies are launching a mobile game featuring Aamu the cat and the bird characters from the Arla Luonto+ product range. Using augmented reality functions, the game focuses on recycling themes and teaches players to make better choices in their daily lives through various tasks. The game can be acquired by scanning an Arla wood-based milk carton or a Luonto+ yoghurt carton with a mobile phone and the Arilyn app.
"Arla is working towards the goal of recycling all of their product packaging. What might usually be referred to as waste is actually valuable raw material. If recycled properly an empty yoghurt container, for instance, can be converted into another item. The Arla Luonto+ brand is a natural channel for us to convey these important themes," says Kati Janhunen, Brand & Category Manager at Arla.
Arla and UPM are tackling the climate change challenge together. A big difference can be made by large companies working together to achieve this goal. The Kierrätyskamut recycling game is the latest example of a series of innovations by Arla and UPM working towards a circular economy and the continuation of a major packaging reform carried out last year. Through this Arla replaced the materials of their ridge-shaped packaging for milk, yoghurt and other food products with entirely renewable materials – representing an annual output of more than 40 million units.
The plastic used on the inside surface of Arla cartons is now 100% wood-based. The raw material is UPM BioVerno, a Finnish innovation, which is made from crude tall oil extracted in the pulp production process. UPM BioVerno is produced at the UPM Biorefinery in Lappeenranta.
"Arla's goal is to be a carbon-neutral dairy. That is why our milk production chain is transparent, we have identified the impact of our operations on climate and we are reducing the carbon footprint of our milk step by step. Innovations made in cooperation with our partners are critical in promoting sustainable development. The change will not happen if we stick to the old methods," said Kai Gyllström, CEO of Arla Oy.
UPM is committed to the UN's Business Ambition for 1.5°C. The company strives to mitigate climate change and drive long-term value creation through climate-positive forestry, innovating novel products, and reducing our CO2 emissions by 65%.
"UPM will replace fossil-based raw materials with renewable materials, and the cooperation with Arla is an excellent example of this. It is fantastic that we are now also promoting recycling and a circular economy with this innovative Kierrätyskamut game," adds Panu Routasalo, Vice President, UPM Biofuels.