Post innovation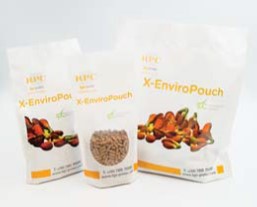 X-EnviroPouch's stand-up properties create greater display flexibility for retailers. This is further enhanced by a wider
choice of pouch sizes, while a choice of white or natural film along with a gloss or matt print fi nish allow aesthetically pleasing designs that maximise brand image and on-shelf impact.
RPC bpi protec has developed an innovative stand-up non-laminate bag as a cost-effective and environmentally - sustainable alternative to the traditional Doy sealed pouch.
The new X-EnviroPouch is ideal for all types of dried foods, including pasta, grains, cereals, drink powders, and also frozen foods.
Made from PE, the pouch is fully recyclable and meets growing consumer demand for sustainable plastic packaging.
For maximum consumer convenience, the bag can also be reclosed with a prestoclose seal, or supplied as film on the reel for packers or fillers to form themselves.
X-EnviroPouch is part of bpi protec's X-Range which provides a variety of fl exible packaging products that offer added value to food manufacturers and retailers, such as increased line speed operation, portion control management, fully recyclable alternatives to traditional non-recyclable methods, and reclosable films.