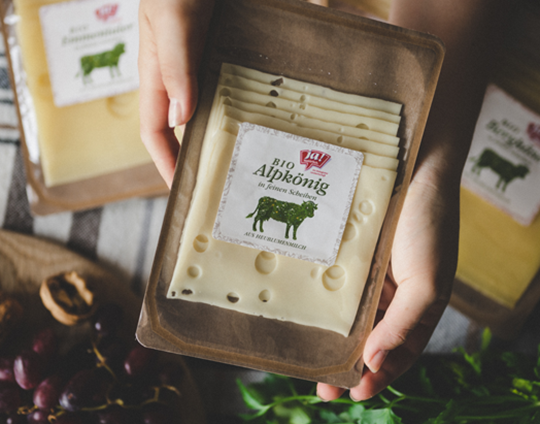 Mondi and REWE Group in Austria focus on sustainability and better recyclability REWE Group, one of the biggest retailers in Austria, is packing its premium cheese products of its organic brand Ja! Natürlich with a new patented solution from leading packaging and paper group, Mondi.
The Austrian retail stores BILLA, MERKUR, ADEG and Sutterlüty are offering the organic cheese slices on natural brown paper trays. In Austria, these can be recycled as waste paper because they are made of 80% virgin fibre and only 20% plastic. The new packaging reduces plastic consumption by 70% and carbon footprint by around two-thirds compared with the previous solution.
Mondi Sustainability affects all aspects of life. More and more people are looking for environmently-responsible solutions and expect companies to deliver products that conserve the planet's resources. In particular, they want to know where products come from and how sustainable the packaging is. Like consumer behaviour, legislation is changing fast – the EU directive on the reduction of single-use plastic is just one example. As a global leader in packaging and paper, Mondi is a pioneer in making packaging sustainable by design.