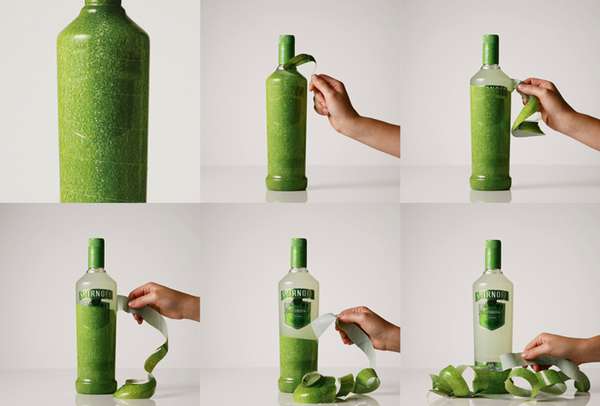 To launch the new flavors of Smirnoff Caipiroska, this popular Brazilian booze brand created an extraordinary packaging concept that is both fun and delightful.
The fruity flavors being featured by the new Smirnoff Caipiroska bottles include lemon, passion fruit and berries. In order to taste the sweet and tangy drinks, one must first peel away the juicy and vibrant packaging that each one of these liquor beverages are wrapped in. The wrapping's texture purposely mimics the fruit it is named after so that consumers can really feel the experience of peeling the fruity beverages. The bottles even come in wooden crates to mimic how fruits are transported in produce trucks.
These new Smirnoff Caipiroska bottles really put a fruitful experience into consumers' hands.
This is nifty new packaging for Smirnoff's Caipiroska beverages are both attractive and fun! Designed by JWT Brasil for Smirnoff, the solid outer wrapper must be peeled off before you can open the bottle. The idea is that the texture of the skin mimics the flavor of the drink: lime, strawberry, passion fruit and by incorporating a perforated sleeve, opening the bottle becomes an interactive user experience - as if you were peeling the lime yourself. Inconvenient? Maybe. Intriguing? Definitely. Gorgeous? Absolutely.