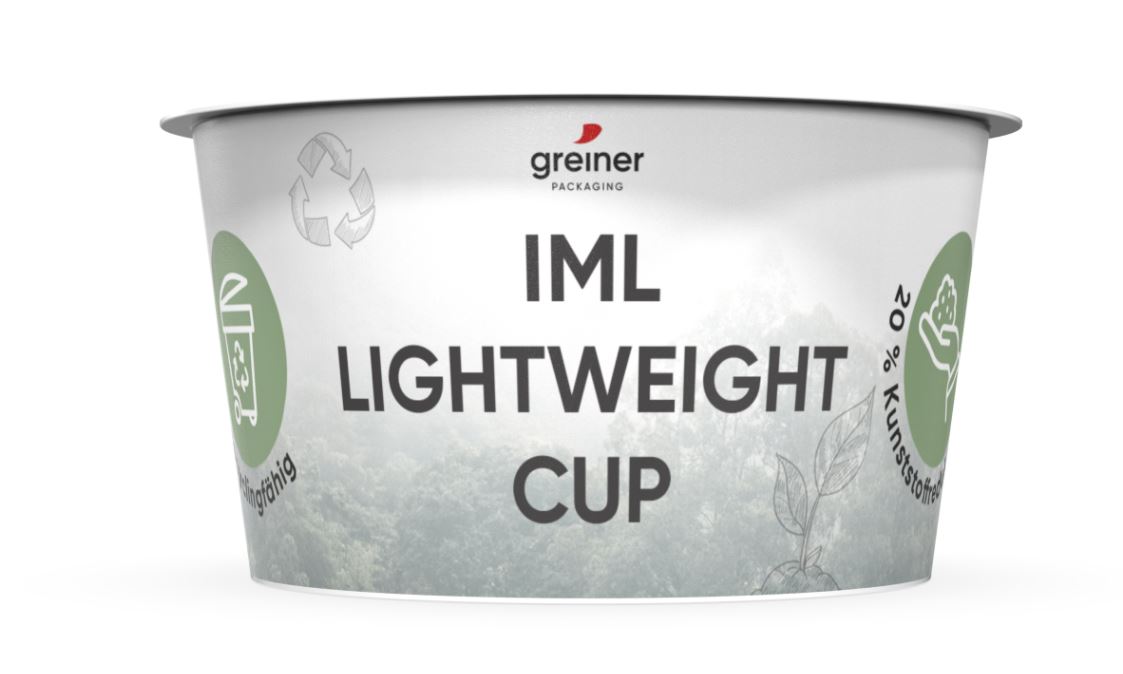 Austrian dairy company Ennstal Milch operates a filling plant for various flavors of Greek yogurt. Greiner Packaging has successfully developed an ideal packaging solution for the yogurt – a cup that features an appealing design while significantly reducing the use of plastic. The packaging manufacturer is now producing this solution as well, allowing it to respond to the market's requirements and the trend toward lightweight packaging decorated with IML technology.
Reduced material usage: the approach for new packaging solutions
One aspect of Greiner Packaging's sustainability strategy is reducing its material usage, a goal it has been pursuing for some time now. The company aims to produce packaging that exhibits the same functionality and improved recyclability compared with previous solutions in order to cut back on plastic from virgin materials as well as carbon emissions. This represents an essential, sustainable approach for the plastics experts – in addition to using recycled materials and renewable raw materials while increasing the recyclability of its packaging solutions to as much as 100 percent.
Sometimes, less is more
Greiner Packaging achieved a material savings of 20 percent for the new plastic cup for the Greek yogurt, having reduced the solution's weight by making adjustments to technical conditions in production. And this reduction has absolutely no impact on the functionality of the cup or its suitability for logistics and filling line systems. Likewise, it is still just as easy to separate the empty cups and stack the sealed cups filled with yogurt. The polypropylene (PP) plastic used in the cups is designed to be suitable for filling with dairy products and other foods in a refrigerated environment or at room temperature. A concerted effort is already underway in Europe to build a collection and recycling infrastructure that is as comprehensive as possible, so the future prospects for recovering the material in optimal quantities are highly promising. Moreover, the carbon footprint incurred during transport is significantly reduced due to the decreased weight of the cup.
Almost endless design possibilities
The PP cup also offers numerous plus points in terms of its design. Thanks to the in-mold labeling technology – that is, the use of a label fused with the cup during the production process – the cup boasts a premium look and makes a particularly impressive statement on store shelves. IML allows for a tailored brand identity with the same high quality as photo printing, ideal for attracting the consumer's attention at the POS. Double-sided or interactive labels can be used to take consumer interactions to the next level. A QR code or digital watermark, for example, can be integrated for competitions, promotions, or similar consumer engagement activities. Plus, a wide range of surface effects is available to enhance the product's premium look, including soft touch, matte, ultra-glossy, metallic, transparent, or imitation paper finishes.
Greiner Packaging International GmbH
Roland Kaiblinger
Account Executive
r.kaiblinger@sps-marketing.com
+43 (0) 732 60 50 38-29