Post innovation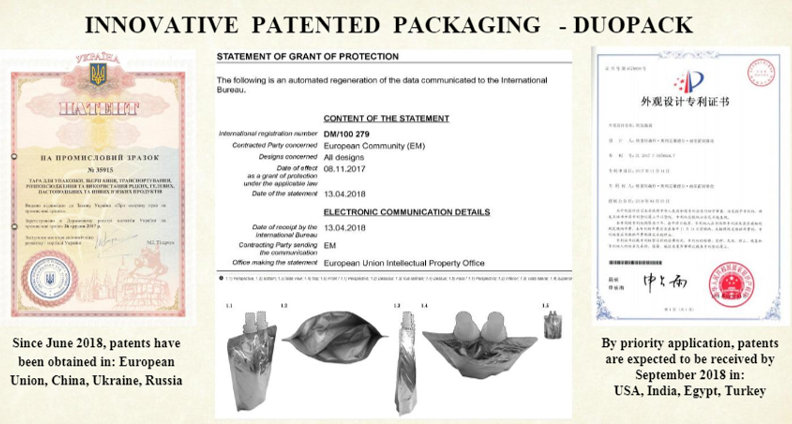 Patented flexible packaging double stand-up pouch
The essence of the industrial design is characterized by the decision on the original form and construction of the invention "Pouches for packaging, storage, transportation, distribution and use of liquid, gel, paste and other viscous products," which allows simultaneous or successive withdrawal of products from two different hermetically sealed tanks through two separate holes by mechanical action on the industrial design itself. This construction allows the consumer to use this industrial design in a combined form instead of several separate products in different pouches. Thus, the connection between the appearance of an industrial design and its construction gives it an individual character when compared with other existing industrial designs.
A shape of the invention is three-dimensional, and is formed by two rectangular vertically elongated plates, fastened on the upper and lateral sides with each other, while the plates are concave to the opposite side of each other in such a way that they form a space that is used to store the products.
On the side, the double flexible packaging is trapezium shaped, divided in the middle by the line of the front and back pouch side fastening. This shape of the invention (extension from the top to the bottom) is due to the convexity of the front and back parts of the packaging resulting from the presence of liquid, gel, paste and other viscous products inside of it.
In the center of the upper line of fastening of the rectangular plates there are two round holes, which are constructed to remove the contents from the pouch. There are two cylindrical necks with thread, constructed for convenience of the caps tightening, which comes from these holes.
The lower sides of the side plates are interconnected by means the bottom of the pouch. At the same time, the bottom part of the invention is the most extended, since the largest volume of the product is exactly at the bottom of the pouch. This form makes the invention stable. The bottom of the pouch is in the form of a horizontally stretched oval, flattened at the extreme right and left points, due to the fastening of the front and back plates (forming walls of the product) in these places. In the middle of the oval there is a line that divides it into two identical parts, which reproduces the internal separation of the package in order to fill the various products at the same time.
The color is not an essential feature of the invention. The original shape and texture of the appearance of the invention are aesthetic and aimed at attracting customers' attention. Modification of the form, texture and decorative design of the appearance of the invention avoids chaos in the perception of the object, distinguishing the invention from a number of similar ones.