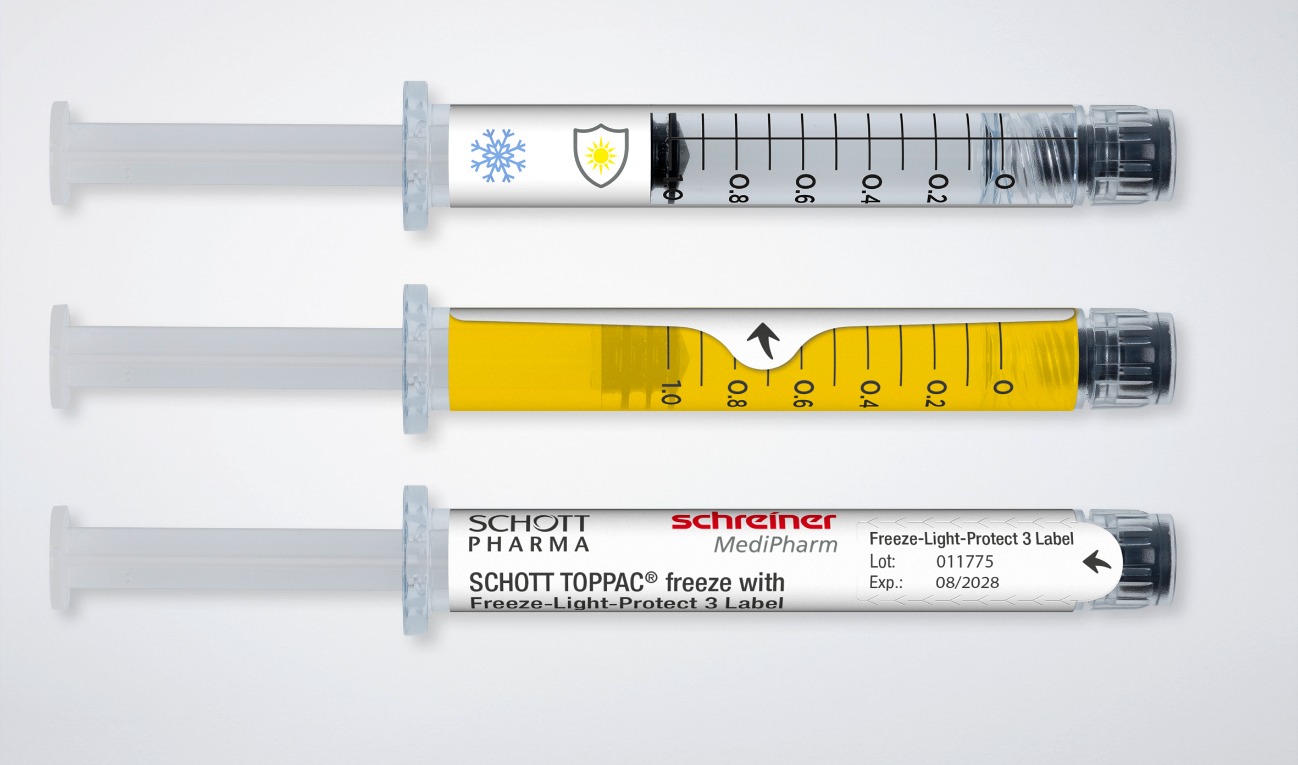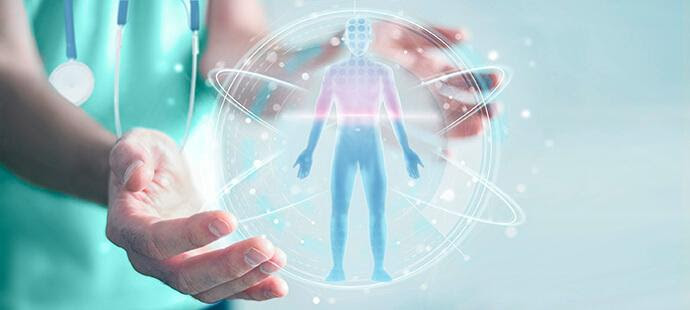 Press Packagingconnections
Oberschleissheim, September 27, 2023 – The newly developed Freeze-Light-Protect syringe label from Schreiner MediPharm is suitable for deep-freeze applications at temperatures far below zero and at the same time offers individual light protection. Consequently, it is particularly well-suited for use with sensitive mRNA-based substances as well as for cell and gene therapies. Schreiner MediPharm is going to present this innovative label for the first time at this year's PDA Universe of Pre-Filled Syringes and Injection Devices in Gothenburg from October 17 to 18.
Therapies and vaccines with mRNA substances as well as cell and gene therapies are becoming increasingly important. However, these novel active ingredients entail special challenges: On the one hand, they must be transported and stored on dry ice at freezing temperatures of down to -100 °C. On the other hand, special light protection is frequently required, depending on the type of substance. Precisely for these applications, Schreiner MediPharm has developed the Freeze-Light-Protect syringe label.  
Freeze-Light-Protect securely adheres to the syringe despite extremely low temperatures and enables reliable marking. In addition, the specialty label can be provided with a variety of UV and light protection levels. The first level strictly provides UV protection, level two protects against UV rays and blue light, and level three delivers full light protection. The light protection level can be precisely customized to suit the specific requirements of the active ingredient. Additional functionalities may be integrated as well: detachable documentation labels for vaccination cards or patients' medical records, inspection windows for checking the syringe contents in unadulterated color, and graduations for correct dosing of injections. 
The novel label from Schreiner MediPharm was developed in coordination with its partner SCHOTT Pharma who launched the SCHOTT TOPPAC® freeze syringe. The 1 ml long COC syringe was developed for medicines with temperatures down to -100 °C with a view to retaining the syringe's functionality and integrity of the syringe closure, thus securing the stability of the drug. Schreiner MediPharm's Freeze-Light-Protect was tested specifically for the SCHOTT TOPPAC® freeze syringe in order to prove the reliability of the label-integrated protective functions and other features. 
Thanks to the combination of the Freeze-Light-Protect label and SCHOTT TOPPAC® freeze syringe, pharmaceutical companies are provided with a pre-qualified solution that can be customized to suit the relevant application. Due to the concentrated expertise of Schreiner MediPharm and SCHOTT Pharma, they are optimally supported in bringing their deep-frozen drugs to the market. 
About Schreiner MediPharm
Schreiner MediPharm, a business unit of Schreiner Group GmbH & Co. KG based in Oberschleissheim near Munich, is a leading developer and manufacturer of innovative, multifunctional specialty labels and marking solutions with value-added benefits for the healthcare industry. Thanks to its strong solutions expertise and specialized know-how Schreiner MediPharm is a highly capable development partner and reliable quality supplier to leading pharmaceutical and medical device technology companies worldwide.
About SCHOTT Pharma
SCHOTT Pharma designs solutions grounded in science to ensure that medications are safe and easy to use for people around the world – because human health matters. The portfolio comprises drug containment and delivery solutions for injectable drugs ranging from prefillable glass and polymer syringes to cartridges, vials, and ampoules. Every day, a team of around 4,700 people from over 65 nations works at SCHOTT Pharma to contribute to global healthcare. The company is represented in all main pharmaceutical hubs with 16 manufacturing sites in Europe, North and South America, and Asia. With over 1,000 patents and technologies developed in-house, a state-of-the-art R&D center in Switzerland, and around 130 employees in R&D, the company is focused on developing innovations for the future. SCHOTT Pharma AG & Co. KGaA, headquartered in Mainz, Germany, is part of SCHOTT AG that is owned by the Carl Zeiss Foundation. In light of this spirit, SCHOTT Pharma is committed to sustainable development for society and the environment and has the strategic goal of becoming climate-neutral by 2030. Currently, SCHOTT Pharma has over 1,800 customers including the top 30 leading pharma manufacturers for injectable drugs and generated sales of EUR 821 million in the fiscal year 2022.
Schreiner MediPharm
Bernd Pfadler
Product Communications
info@schreiner-medipharm.com
+49 89 31584-5494