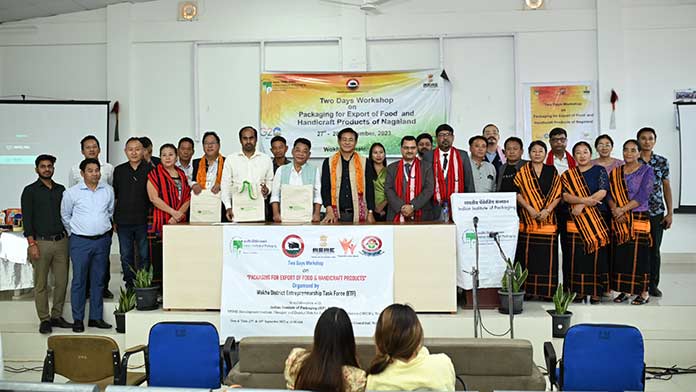 Press Packagingconnections
The chief guest, adviser Agriculture, Government of Nagaland, Mhathung Yanthan stressed on the paramount importance of packaging for Nagaland's Food and Handicraft secto
The initiative was aimed at educating participants about the latest trends and technological advancements in food packaging, emphasizing the significance of innovative packaging for enhancing export potential.

Deputy Commissioner, Wokha, Ajit Kumar Ranjan speaking on the occasion, pointed out that while Nagaland's indigenous products rival the best in quality, there was a notable gap in packaging quality which must be addressed to bolster their market appeal and export potential. Meanwhile deputy director & regional head, IIP-Kolkata, Bidhan Das, highlighted the urgency to adopt alternative packaging methods tailored to market needs. He underscored the potential of mathematical models in predicting product shelf life and emphasized on the adherence to the Food Safety Act Packaging Regulation 2018, Food Safety Act – Labelling and Display Regulation 2020, and Plastic Waste Management (Amendment) Rules 2022.

Additional Secretary (L&ESDE), Kovi Meyase also spoke on the importance of subsequent specialized training sessions following the foundational workshop. The workshop was attended by over 200 attendees from MSMEs, NGOs, FPOs, and other sectors to empower local entrepreneurs, providing hands-on guidance on packaging nuances tailored to specific product needs.