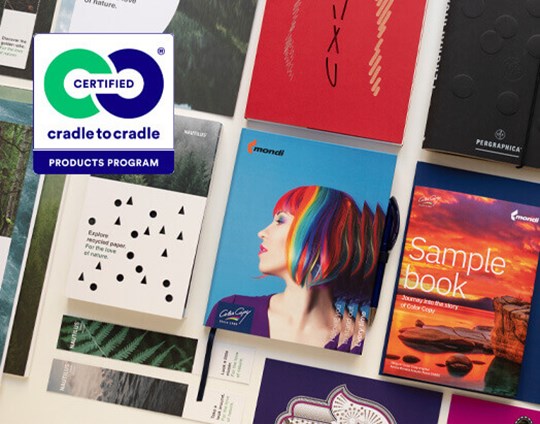 Press Packagingconnections
Wide uncoated fine paper portfolio from Mondi´s Austrian, Slovak and Russian mills awarded with a Cradle to Cradle certification at Bronze level
Cradle to Cradle Certified® is a globally recognised standard for safe and responsible products marking the step from a linear to a circular economy
Cradle to Cradle Products Innovation Institute acknowledges Mondi´s contribution to a circular economy through products that positively impact people and planet
Mondi, a global leader in packaging and paper, received the Cradle to Cradle certification at Bronze level for its uncoated fine papers produced in its mills in Austria, Slovakia and Russia. Mondi is thus the first to offer an extensive uncoated fine paper portfolio as Cradle to Cradle Certified® meeting the high standards and demanding requirements of this certification scheme which marks the step from a linear to a circular economy. This includes Mondi´s well-known professional printing brands Color Copy and PERGRAPHICA®, as well as its range of NAUTILUS® branded recycled papers, and a wide office paper portfolio.
We are proud to kick off the year with this strong sustainability achievement underlining our Mondi Action Plan 2030 (MAP2030) commitment to create circular-driven solutions. For many years, Mondi has been a leader, and often a pioneer, in the sustainability of its uncoated fine papers. For example, Color Copy became the world´s first FSCTMcertified colour laser paper in 2005. Thanks to our new Cradle to Cradle certification our customers have a uniquely wide choice of products to support the environment and contribute to the circular economy without sacrificing on quality or price.
The Cradle to Cradle Certified® Products Program is a globally recognised standard for safe, responsible materials and products made for the circular economy. The holistic approach follows nature´s principle of keeping materials and resources in circulation and eliminating waste. The Cradle to Cradle certification is awarded by the Cradle to Cradle Products Innovation Institute dedicated to powering the circular economy through products that have a positive impact on people and planet. The programme assesses five categories of sustainability performance: material health, product circularity, clean air and climate protection, water and soil stewardship, and social fairness. Mondi´s uncoated fine paper portfolio has been assessed across all five categories, reaching levels from Gold to Bronze, thereby being Bronze the overall level of the final certification.
About Mondi Uncoated Fine Paper
Uncoated Fine Paper is a business unit of Mondi Group. In six operating sites in Austria, Slovakia, Russia, and South Africa, Mondi Uncoated Fine Paper produces pulp and environmentally sound office and professional printing papers tailored to the latest professional digital and offset print technologies. The company complies with the strictest international certification standards to support sustainable production processes through the responsible management of forest, water and air resources. All Mondi uncoated fine papers belong to the Green Range of papers that are FSC™ or PEFC™ certified, 100% recycled or bleached entirely without chlorine.
Its renowned brands such as Color Copy, PERGRAPHICA®, NAUTILUS®, NEUJET®, IQ, MAESTRO®, BIO TOP 3®, DNS®, Snegurochka or ROTATRIM are used in office environments on laser or inkjet printers and by professional printers on digital or offset presses to create brochures, transactional material, folders, invitations, business cards, letterheads or other high-impact communication. Converters appreciate the excellent printability and smooth handling of Mondi's professional printing papers.
About Mondi
Mondi is a global leader in packaging and paper, contributing to a better world by making innovative packaging and paper solutions that are sustainable by design. Our business is integrated across the value chain – from managing forests and producing pulp, paper and plastic films, to developing and manufacturing effective industrial and consumer packaging solutions. Sustainability is at the centre of our strategy and intrinsic in the way we do business. We lead the industry with our customer-centric approach, EcoSolutions, where we ask the right questions to find the most sustainable solution. In 2020, Mondi had revenues of €6.66 billion and underlying EBITDA of €1.35 billion.
Mondi has a premium listing on the London Stock Exchange (MNDI), and a secondary listing on the JSE Limited (MNP). Mondi is a FTSE 100 constituent, and has been included in the FTSE4Good Index Series since 2008 and the FTSE/JSE Responsible Investment Index Series since 2007.
MONDI
Anika Köstinger
Senior Communication Manager, Mondi Uncoated Fine Paper
Anika.Koestinger@mondigroup.com
+43 179 01 34 118